We continue to process the pain and hope of our nation's uprising for racial justice amid a global health crisis. You can see our recent statements on the uprising here, our COVID-19 web page here, and our Race & Housing resource center here. Expanding homeownership is a key component of racial equity and health, so our mission has never been more important—and we'll continue to share the stories of Habitat's work.
---
Twin Cities Habitat's Age Well at Home program (formerly known as Age in Place) is taking a person-centered approach to home modification services for older homeowners. This new approach combines healthcare and housing services to collaborate with older homeowners to improve their ability to live healthier and safer at home.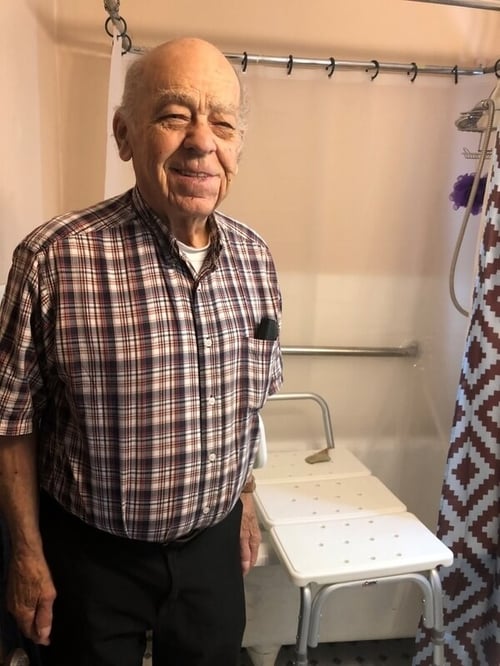 Homeowner James Sass in front in his new modified bathroom
At Habitat, we recognize the fact that the majority of aging homeowners want to live at home for as long as possible. However, many homeowners lack the ability or resources necessary for home modifications that could prevent challenges like falls or other chronic issues from happening as they age at home.
Our Age Well at Home program started as an initiative to address this growing need and help low- and moderate-income homeowners age safely in their homes. In some cases, this means installing simple modifications like extra railings, grab bars, or non skid flooring, that allow homeowners to safely move around their homes. Other times, it involves installing a higher toilet, stair-lift, smart doorbell, or other modifications that address a homeowner's concern and allows them to feel safer at home.
In its first 18 months, the Age Well at Home program has upgraded more than 60 homes in the metro area and is now being tried in 5 other cities. The program partners with Allina Health and Hennepin Healthcare to help identify older patients who would benefit from home modifications. The on-site work is then carried out by Habitat staff and subcontractors, with some opportunities for volunteers to build things like accessibility ramps.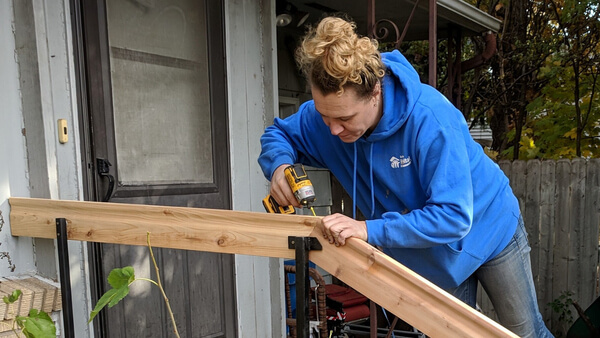 Age Well at Home project supervisor Ashley Realbanas installing a railing at a home
According to Age Well at Home program manager Pat Lund, with the program's new approach to home modifications, where the central focus is on the homeowner's health, abilities, and desires, it is now more critical than ever before to have healthcare providers as partners.
"They are the experts in knowing health needs…Many older homeowners also have a trust with their primary healthcare workers which creates a better environment for Habitat to build relationships with them as well" Pat said.
Habitat hopes to work with more healthcare systems as the program continues to expand. In the next coming year, we plan to double the number of older homeowners we assist, and track completed projects with the hope that the program can one day be replicated at all Habitat affiliates across the country.
Due to the COVID-19 crisis, Age Well at Home modifications had been limited to exterior ramp building. However, starting July 15, Age Well at Home will be back serving homeowners interior modification needs under new safety protocols. Also, the Age Well at Home team will soon have a limited number of volunteer opportunities, following strict safety protocols, that will continue to work on home modification projects to improve the health and safety of aging homeowners.
Age Well at Home is not taking any additional clients until July 30th at the earliest. For more information about the program and our referral system with Allina Health and Hennepin Healthcare, please visit our Age Well at Home landing page.