There comes a time when all of us need to decide whether to stay at home or move to a more suitable place. It's not an easy decision, but it's also not an "either/or" – as the world has begun to focus more on how seniors want to spend their later years, we've found out that it's more of a spectrum.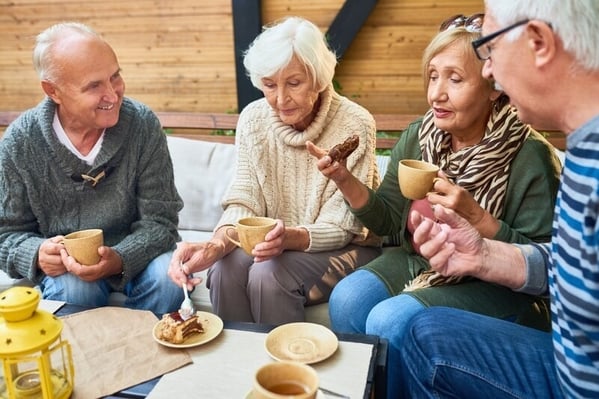 Maybe you love the independence of owning your own home but don't need all that space. Maybe you don't need all the bells and whistles of a senior living community but still want to socialize and see loved ones. Every older adult wants something different from life, and living options for seniors have evolved to match.
Is Aging in Place Right For You?
The first step seniors should take is to answer the homeownership question – and it's not as clear-cut as staying or moving. Do you want to keep the home you live in now? Would you rather downsize or move in with family? Or do you have the resources to transition to a senior living community?
Every option requires effort, and no single option will be right for every senior. Everyone's living situation is different. Figuring out which is right for you starts with defining what you want and what is realistic. Beginning that conversation early can help you prioritize your wants and needs with your family, and narrow down your options.
Aging in Place Options
If you know you want to live at home well into seniorhood, you may envision growing old inside the same home you've lived in for years. But your needs will change with time, and today's aging in place initiatives are about adapting a senior's house to meet those needs.
Consider these aging in place options that can keep you in your own home longer:
Home modifications: Even as it becomes harder to get around, your home can likely work for you in old age. Aging in place home modifications based around Universal Design principles exist to update your home with your changing abilities in mind. Aging in place specialists can help you identify the best ways to update your home, from inexpensive changes to extensive modifications.
At-home care, senior care, and assisted living: Some seniors find themselves stuck between ongoing wellness needs and their desire to live independently. Home care can help strike that balance, providing needed care services without requiring you to relocate.
Downsizing homes or moving closer to family: If you moved into your home with family, it might feel a bit roomy at an older age. In those cases, many seniors decide to move into a smaller home closer to their family, preserving a sense of independence without letting go of their connections with loved ones.
Accessory dwelling units: What if moving out didn't have to mean moving away? Accessory dwelling units (ADUs) are an increasingly popular living option for seniors, helping them simplify their living situation while remaining close to home. In most scenarios, a younger family member will buy a home from their aging parents, who will then relocate into a smaller, bespoke unit on the same property. An accessory dwelling unit's main benefit is that they let seniors live close to family without being tied to their schedule, pace of life, or living space.
Homesharing: Remember Golden Girls? The classic sitcom used the concept of four unmarried women sharing a home as the basis for comedic antics. Still, the idea has legs in the real world: Services like Silvernest and others pair seniors aging at home with senior roommates looking to downsize. Ideally, both parties benefit from a homesharing agreement: the homeowner earns income while both receive companionship and peace of mind. Click here to read about more of the benefits of senior homesharing.
Senior villages: A senior village is a community of seniors within a larger region dedicated to preserving quality of life for one another. It's a simple expansion of the aging in place concept, but one that's taken hold since aging residents of a Boston neighborhood came up with the idea to stay in their homes longer. Members of a senior village advocate for one another in many ways, including by organizing, surveying, and providing on-the-ground services like delivery of groceries and other necessary goods. Community Thread in Stillwater and Mill City Commons in Northeast Minneapolis are two of the most prominent villages in the Minneapolis/St. Paul area, and you can visit the Village-to-Village Network's website to find a village near you.
While the primary benefit of aging in place is independence, it doesn't have to be done alone. Age Well at Home™, Twin Cities Habitat for Humanity's aging in place program, connects Twin Cities seniors with people, services, and resources they need to help them stay in their homes as long as they can. Click the button below to learn more.