What: Each year Women Build helps build multiple homes throughout the Twin Cities. Women from all walks of life come and build together.
Who: Each year over 1000 women volunteer with Women Build. Anyone is welcome. No experience required! Team Leaders are women who organize a group of 15 friends to build with them and fundraise to support their build day. Crew Leaders help lead groups of 4-5 women on site.
Where: Women Build volunteers are hard at work building a home in St. Paul until the end of August. Later this summer Women Build will be building in Blaine and Minneapolis.
When: All year! During the summer we have Women Build opportunities Monday – Friday. During the Fall we have opportunities Tuesday – Saturday. In the winter we have multiple individual opportunities available.
How: Get involved by volunteering as a group, volunteering as an individual or donating to Women Build.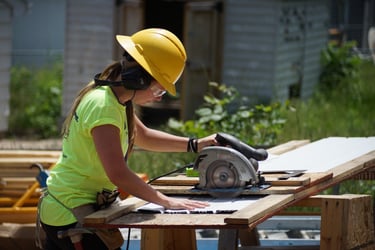 Contact: womenbuild@tchabitat.org to get involved!