Though the program is only a couple of years old, Age Well at Home™ (formerly Age in Place) has already made an incredible difference in the lives of its participants. Age Well at Home provides home modifications so clients can safely live in their homes longer. A few simple modifications can improve clients' happiness and overall well-being.
Ashley Realbanas is the program's Project Supervisor and manages the home modifications for Age Well at Home clients. Before Ashley visits a client's home, a nurse or other medical professional from Allina or Hennepin Health (Age Well at Home's two healthcare partners) evaluates the home and makes a list of needed modifications. Ashley takes it from there.
Some of the most common modifications are hand rails and grab bars to prevent falls. Ashley said she would love to be able to provide ramps to more clients, but ramps have specific space and safety requirements, so the program is limited in how many they can provide. Ashley also often purchases and provides medical equipment for clients.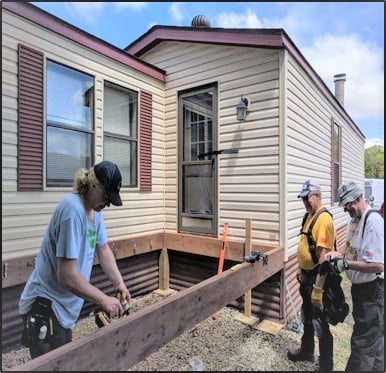 Ashley working on the frame for a ramp with two volunteers
Ashley works with Twin Cities Habitat's Pam Johnson, the case manager for Age Well at Home. Pam handles all the intake paperwork, modifications that are outside the scope of Ashley's position, and helps clients connect with other programs.
"We had one client whose furnace went out, and Pam was able to connect him with the Community Action Partnership (CAP) program to go in and provide a new furnace," Ashley shared.
Ashley said this kind of case work service is integral to the success of Age Well at Home. The program started as a pilot three years ago. After two successful years, Age Well at Home is now a permanent program celebrating its three-year anniversary. Major funding for this program is provided by a Minnesota Department of Human Services' Live Well at Home grant.
While many programs in the metro area provide home modifications, Age Well at Home focuses on residents that are both aged 65 and older and living on a limited income. For these homeowners, hiring a contractor would be too time-consuming and prohibitively expensive. This program gives homeowners a way to get repairs completed and stay in their home longer.
So how does a client wind up working with Ashley? First their doctor writes a prescription for in-home services. The prescription includes a certain number of hours or visits allowed based on the client's insurance. Then our healthcare partner does a pre-qualification. If the client meets the requirements, their file is uploaded to our database. Pam makes a final determination as to which clients will be added to the schedule.
Ashley's most common modifications are related to fall prevention. Grab bars, wheelchairs and transfer chairs, lift chair recliners, and railings all help homeowners move safely within their home. Reacher tools are also popular items to help increase mobility. Age Well at Home also partners with an elevator license that provides stair lifts for some clients. However, because our program budget is limited, if we provide a stair lift, we are generally unable to provide other modifications for that homeowner. Stair lifts have been critical for several clients, as multi-level homes can become challenging and even dangerous as you lose mobility. Ashley has overseen the installation of 10 stair lifts in the last two years.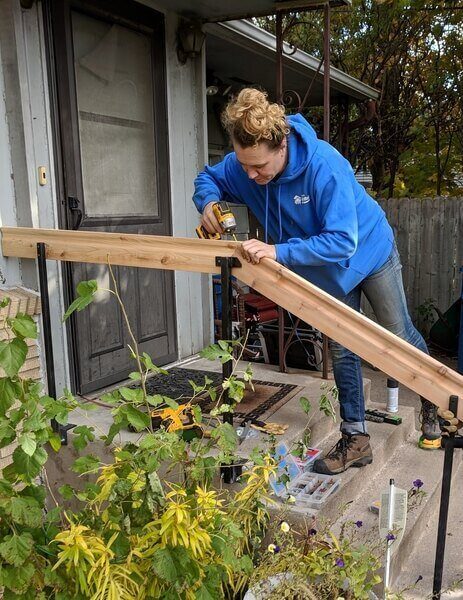 Ashley installing a railing on the front steps of a home.
Ashley says bathrooms are often taken for granted. Being able to shower and bathe oneself has a huge impact on quality of life. It can also impact family members who might otherwise need to assist their loved ones in the bathroom. Handheld showerheads, higher-level toilets, shower chairs, and step-in tub modifications provide security and allow homeowners to take care of themselves with dignity.
Some people are initially hesitant about other people coming into their home. Others can't believe it's really free. Ashley tries to give homeowners the flexibility to change their minds about modifications. She wants clients to feel ownership over their experience. Ashley said the response to the program has been overwhelmingly positive:
"We get great feedback from our clients and it's just been wonderful, so I really appreciate the program. It's been a great thing to be a part of."
Ashley's favorite parts about working with Age Well at Home have been the follow-up. It's powerful to hear that someone is still in their home and doing well. In her own words:
"I mean, it's that follow up when we can hear back, and hear that somebody's still in their home and they're doing better. Maybe the medical incident that they had that put them in a situation where they needed help – they've recovered from that and their life has improved. That's why we do it."