Barett Lenton has been with the ReStore for about six months. Previously he was a miner, until he got injured one day at work. While he is rehabilitating from this injury, the ReStore has let him work with them. "It was a great fit from day one," Barett said.
Barett loves working with the ReStore for quite a few different reasons. He says that it never gets boring around the ReStore, he gets to teach the skills that he has learned from his father's construction company, and he gets to surround himself with wonderful people. "If I need anything, Pete talks to me like a real person," Barett mentioned about the Sr. ReStore Manager, "Everyone here is always smiling, and I don't think there is one person here who wouldn't help me if I needed it."
The ReStore staff members aren't the only people that Barett has become close with, though. He also has formed a strong friendship with a future Habitat for Humanity homebuyer. "Me and him are going to be friends for a long time" Barett said, grinning. "If I walk up behind him and say 'hi,' his face just lights up. It's really great."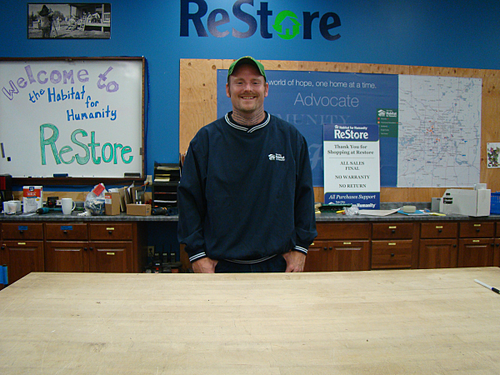 Barett also mentioned how rewarding it is to work at the ReStore. "It is amazing to see the betterment of families" he mentioned, as well as describing it as an extremely humbling experience. He enjoys being able to see the productivity and positive impact of the ReStore, and also shared how inspiring it is to know that the store helped fund three Habitat for Humanity homes just this year.
The Restore is always looking for great volunteers like Barett. If you'd like to learn more about available volunteer opportunities, click on the banner below.