Volunteer Testimony: Working with Families
Posted by Matt Beachey on .
Volunteering with Habitat can be about more than building homes. We rely on our volunteers every step of the way, from finding families eligible to buy Habitat homes to the moment we hand them the keys. This is a testimony from a volunteer with Family Services.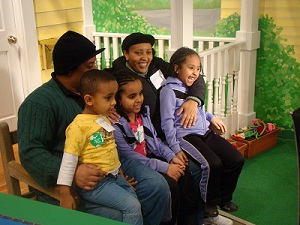 I originally got involved with Habitat for Humanity by working on some builds. My church takes one week on a build in the summer and I volunteered a couple of summers. About seven years ago, I was looking to dedicate more of my time to volunteering. I wanted to find a couple of organizations that did some work I really believed in and had some interesting and fun duties that would fit my schedule and skills.
I discovered that it's not always easy to find volunteer opportunities. Many organizations do not have the staff or ability to take on volunteers and provide them with an enriching experience. Some places never followed through with my inquiries, many had volunteers attempting to help on a part-time basis and many did not have anything that fit with my work schedule.
That was not the case with Habitat. Habitat thrives on the help of volunteers. Because of my working on builds and because I strongly believe in their mission to provide affordable housing, I went to Habitat's website to see what volunteer opportunities they had. I found that I could attend an open house at Habitat where they would present information on various volunteer opportunities.
During the presentation, I learned about the Family Services Committee. It sounded like a good fit. I signed up to go into homes to interview prospective homeowners as part of the process in selecting the people who get Habitat homes. I went on a couple of interviews as a second, with experienced interviewers, and then I was ready to conduct interviews as the primary interviewer.
The work is very interesting. Every family I have interviewed over the last six plus years has a different story. To see their determination to make their lives better for themselves and for their children is heart- warming. It gives me a great perspective on life and reminds me what is important. We get to meet the families in their homes, talk about their goals and dreams and see the conditions they live with on a daily basis. Most of them do not live in the best of conditions, but are still very happy with their lives. They are thankful for what they have and have smiles on their faces. They want to improve their lives and they sacrifice much for the future of their children. They are inspiring.
I believe in Habitat's mission and commend them on one of their core strengths: providing an environment where volunteers can thrive and give back to the people in their communities.
Habitat has many volunteer opportunities with varying levels of commitment. If you'd like to learn about the various non-construction ways you can volunteer with Habitat, click here., or attend one of our volunteer open houses.