Warm your heart by volunteering this winter
Posted by Matt Beachey on .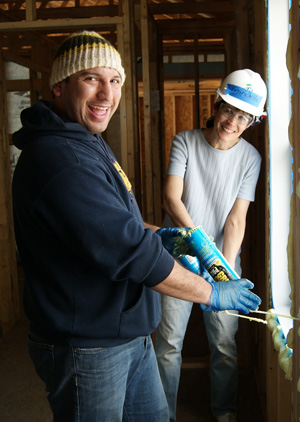 Volunteers are essential to Twin Cities Habitat and we can't do what we do without them. Volunteers not only build on-site or help with an A Brush with Kindness project; volunteers donate their time at our ReStore, with family services, in the office and in all different areas of Habitat. As one of our regular volunteers says when asked what he would tell someone who has never volunteered with Habitat before "Everybody can come, all you need is a willingness to come."
Habitat works with volunteers of every skill level, from seasoned carpenters, to volunteers that have never picked up a hammer. As that same regular volunteer says "Habitat is a great way to step outside my normal box. It has become a social life for me."
Volunteers can come on-site as an individual or get a group together to come on-site to build together. Volunteers can help out year-round and can volunteer as many days as they want. We have volunteers that give over 100 days per year! When the regular volunteer was asked why Habitat, what brings you back? He simply said "Habitat itself is what brings me back."
The biggest need for volunteers is during the winter months and there are sites located all across the metro area, especially in the southwest metro! To learn more about volunteer opportunities or to get signed up email volunteer@tchabitat.org or 612-305-7114.
-Jenny Brockel