A Stable Habitat Home For The Montgomery Family
Posted by Becky Engen on .
Delilah and her two daughters, Timiya (9) and Delia (10), had gotten used to moving from apartment to apartment due to pests and other issues. Recently, they moved into a 2-bedroom apartment that met their needs for the time being, but Delilah was tired of paying someone else for housing and wanted the freedom to decorate and renovate her home as she and her children desired. Delilah has wanted to own her own home for a long time, but when she had looked into buying one, she was denied due to her credit.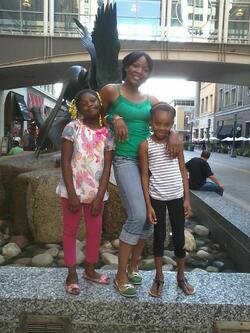 Delilah first heard about Habitat from a brochure and her work with the Northside Achievement Zone. She decided to attend an orientation session with her friends to learn more about the program and see if it would work for her. She immediately loved Habitat's mission to end poverty housing and really appreciated that Habitat didn't rely solely on credit scores to qualify homebuyers and was willing to help her fix her credit. As an individual who is already invested in the North Minneapolis community, Delilah was excited to discover that the Habitat program would give her a chance to purchase a home in the neighborhood where she grew up, and where she currently lives, works, and attends church.

Delilah applied to Habitat's Homeownership Program in July of 2012, and waited patiently through the process. Then, in July of 2013 she received a call from Habitat offering her the opportunity to purchase a renovated 3-bedroom home in North Minneapolis. She was so overjoyed she didn't know what to say, and just sat down speechless, thanking God for such a great opportunity. Thinking about that moment still brings a smile to her face, and now she regularly drives by her future house with her daughters, as they eagerly anticipate their move into the home this coming spring.
Daughters Timiya and Delia are excited to stay in the same school district they currently attend. After they finish school, Tamiya wants to be a police officer and a hairdresser, while Delia wants to be a dancer, singer, and nurse. They can't wait for the new home because it means they can finally decorate their rooms, one of which will be pink and the other purple.
Since being accepted into our Homeownership program, Delilah has finished all but one of her homebuyer training sessions, where she has learned a lot of important things like how to be a good neighbor, how to take care of the inside and outside of the home, how to maintain good credit, and how to work with neighbors to create a safe and crime-free neighborhood. She has also completed about a third of her sweat equity hours, mostly through volunteering on construction sites.
When asked about her experience on site, she immediately exclaimed, "Oh my God I love that!" and later said that "Every Saturday morning is better than the last!" Her work with sheetrock and shingles thus far has taught her to appreciate all of the work that goes into a house and inspired her to take extra care in maintaining her own home. She also is excited about her new construction knowledge. She shared that in the past she would have called her brother about anything construction-related, but now she goes over to friends' houses and says, "I can put up your sheetrock!" Once she moves into her new home, Delilah plans to continue to volunteer with Habitat because of how enjoyable and instructive it has been.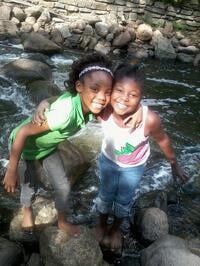 Delilah is looking forward to having a stable home for her family, a garage to pull into, and a yard for the kids to play in – all of which she will very proudly be able to call her very own. She is thrilled about baking cookies or other things and bringing them to her new neighbors like she has seen in shows and movies. Her plans for the future include the possibility of a deck and/or basketball hoop in the backyard. She also intends to do more with her jewelry business and hopes that will really expand and get more momentum.