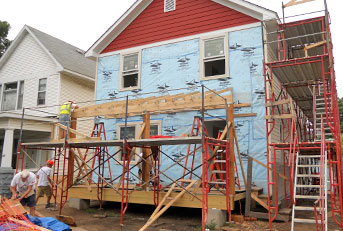 Many renters dream of the day they'll own their first home and imagine what it will look like whether that includes a spacious yard, garage for cars, or large kitchen and living room. If you're considering Twin Cities Habitat for Humanity's Homeownership Program, you might be wondering, "What are my options in choosing a home?" Through our program, you can choose a house on the open market or buy a Habitat-built or renovated home.
To help you better understand buying through Habitat, we've created a list of frequently asked questions.
Can I Buy a New House?
Yes, Twin Cities Habitat for Humanity builds homes from the ground up. We have example floor plans for both single-family homes and townhomes, but our designs vary by lot size, city and neighborhood requirements, accessibility modifications, and number of bedrooms.
In addition to new builds, we also purchase existing homes and have the ability to make any necessary renovations to meet our design standards, and health and safety guidelines. If you meet program qualifications, and become mortgage ready, you'll learn about which homes you're eligible for based on your family size and income.
Finishes for cabinets, flooring, and walls are predetermined for newly-built and renovated homes. However, Habitat takes into consideration how the external house features fit into the rest of the neighborhood and can make accessibility modifications as determined by program guidelines. In some cases, one or both factors may change the design of the property.
Homebuyers who have participated in Habitat's Homeownership Program, who are mortgage-ready and interested in buying a home built or renovated by Habitat will view properties available for purchase monthly.
How Much Does a Habitat for Humanity House Cost?
The cost of a house built or renovated by Twin Cities Habitat is determined by the real estate market. We sell all of our homes for the current fair market value. However, the mortgage is determined by the household's income. A first mortgage through Habitat's mortgage company, TCHFH Lending, Inc., will be set at 30% or less of the homebuyers gross monthly income. If your first mortgage is not enough to cover the full fair market value of the property, Habitat can provide some assistance to cover the full cost of the home.
Can I Choose My Own House and Where It Will Be Built?
New homes are only built on land that Twin Cities Habitat owns. However, if you are eligible to buy a house on the real estate open market using a mortgage from TCHFH Lending, Inc., then you can decide which house you purchase and where it is located depending on what you are pre-qualified for. Homebuyers who are mortgage ready will receive a pre-approval letter, which explains what mortgage amount you can afford. This letter will guide your home search based on what homes to look for in your price range. You can work with a realtor of your choice to look at available homes for purchase in your location.
Does Habitat for Humanity Rent Properties?
No. We only build and rehab single-family homes and townhomes for first-time homeowners to buy. Those who participate in our program have typically rented for years and are looking to own their own home.
Whether you're looking to buy a new house or you're interested in purchasing a home on the open market using a mortgage with TCHFH Lending, Inc., we have options. For any additional questions, give us a call at 612-540-5660. We're happy to help.