We are so excited to announce that Shoreé Ingram will join Twin Cities Habitat for Humanity as our first-ever Director of Equity and Inclusion, starting next week.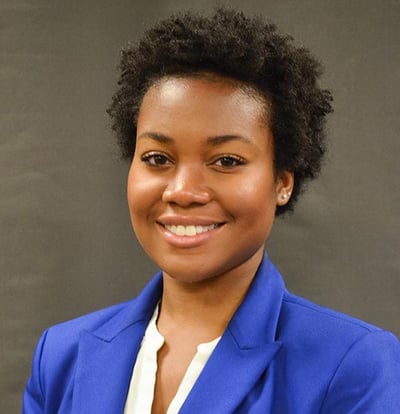 "I am grateful to join the great team at Twin Cities Habitat for Humanity and consider it an honor to work toward this important mission," shared Shoreé.
"Becoming part of an organization working to dismantle racism and promoting equity and inclusion is a gift in itself, but I am equally looking forward to doing the work that matters – closing gaps in housing, serving and supporting our employees and communities, and ensuring equity and inclusion are core to the Habitat for Humanity experience."
Twin Cities Habitat has had a value of Equity and Inclusion for several years. More recently, we've honed our focus on closing Minnesota's worst-in-the-nation racial gap in homeownership and doubled down on our commitment to anti-racism. Shoreé's hiring is one element of this expanded commitment.
Shoreé will champion Twin Cities Habitat's anti-racism and equity work. She will serve as a leader and guide in helping the organization live into its value of promoting racial equity, and increasing diversity, inclusion, and cultural competency. Shoreé will work directly with President & CEO Chris Coleman and will be a member of the organization's Senior Leadership Team.
"I'm thrilled to welcome Shoreé to the Habitat team and I know she'll hit the ground running," said Chris. "She's the right leader at the right time to make Twin Cities Habitat a leading voice on racial justice in the Twin Cities."
Most recently, Shoreé served the Hennepin County community as District Court's first ever Diversity and Outreach Specialist. She began her career with the courts in 2013 in Education and Organization Development and has led community outreach and education initiatives to advance inclusion and ensure access to justice.
Shoreé uses her strengths as a positive, passionate, and people-centered thinker to lead internal training and development for leaders and employees on topics of diversity, inclusion and providing excellent service.
You can read more about Shoreé and her outlook on her new role in this recent article in the Minneapolis-St. Paul Business Journal.
If you're interested in joining Shoreé as a new member of the Habitat team, check out our current job opportunities.
Learn more about the historic roots of our state's racial disparities at our Race and Housing Resource Center.