Twin Cities Habitat for Humanity thrives on partnerships. And one of the top reasons a person, a business, a school, a church, or really anybody, partners with us is because they share at least one (and likely many) of Habitat's core values.
Twin Cities Habitat's values
Faith in Action: We are called by God to serve families in need. We welcome people of all faith backgrounds to our mission.
Hope: We provide hope and opportunity for hard-working families who seek a safe, decent home.
Community: We bring people from all walks of life together in our work.
Equity and Inclusion: We promote racial equity and strive to increase diversity, inclusion, and cultural competency in all aspects of our organization.
Integrity: We honor our commitments and act with fairness, honesty, and respect every day.
Perseverance: We continually strive for excellence and innovation in all that we do.
Since Twin Cities Habitat's values are deeply held and fundamental to our work, they rarely change. However, over the past two years, as Twin Cities Habitat developed its new Strategic Plan Impact 2020, our organization decided it was imperative that we add Equity and Inclusion to this list of values.
This reflects Twin Cities Habitat's desire to both reduce the racial disparity in homeownership opportunities in the Twin Cities and to become a more diverse and culturally competent organization. During the development of the Impact 2020 plan, it became clear that these goals were extremely important to both Twin Cities Habitat staff and the vast majority of our stakeholders.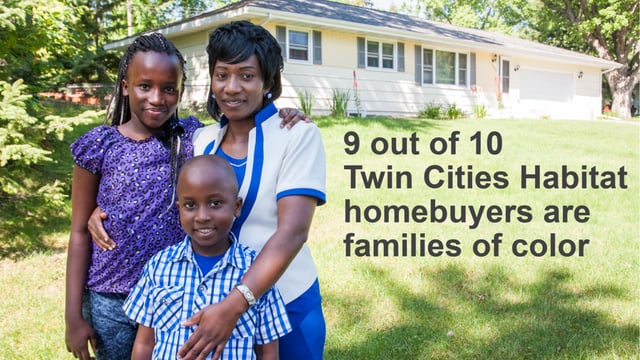 Over the past several years, nine out of ten Twin Cities Habitat homebuyers have been families of color. So, more than doubling Habitat homeownership opportunities (which is the #1 goal of the Impact 2020 plan) aligns well with reducing the Twin Cities' racial homeownership disparities. At the same time, Twin Cities Habitat is partnering with several community organizations that work closely with many of the populations that are underrepresented in homeownership. These organizations will now be referring income-qualified families to take part in Habitat's affordable homeownership program. The idea is to bring homeownership opportunities to the people who've been historically left out, and do it through partnerships with organizations that members of those communities already feel comfortable with.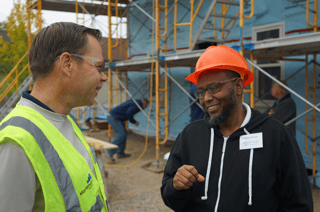 At the same, Twin Cities Habitat's leadership is emphasizing the need to increase diversity within Habitat's staff, board of directors, subcontractors, and volunteer base.
Volunteering on a Habitat home often puts you in a situation where you get to work alongside someone who has had a much different set of life experiences than you. It's amazing to see how quickly people's differences, which may be perceived as obstacles to friendships, melt away and a sense of comradrey takes over when strangers are working together on a common task. On Habitat sites we are often reminded that language and cultural barriers are not nearly as great as the common sense of humanity that we all share.
Since the Twin Cities is growing more diverse each year, our region has the potential to tap into many different cultures and backgrounds to create a community that works for all of us. But the long-standing opportunity gaps between whites and people of color must be addressed head on so that we are able to unlock as much potential as possible in the next generation. Twin Cities Habitat is excited to help lead the way and find new partners interested in our mission to eliminate poverty housing from the Twin Cities.