Staff Bios
Susan Haigh
, President & CEO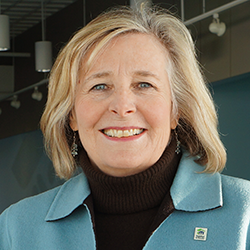 Susan Haigh has led Twin Cities Habitat for Humanity (TCHFH) as President & CEO since 2005. TCHFH is one of the most successful Habitat affiliates in the United States serving the entire seven county Twin Cities region. In addition to her leadership at Habitat, Haigh was appointed by Governor Mark Dayton as the Chair of the Metropolitan Council from 2011-2015. During her tenure as Chair, the Council adopted a thirty-year regional plan, Thrive MSP 2040; initiated the first housing policy plan in the region in over 35 years; awarded more than $75M in TOD, Livable Community Act and brownfield clean-up grants to cities; and opened with its partners the following major transit improvements: Union Depot, Target Field Station, Red Line BRT in Dakota County and the Green Line LRT connecting St. Paul and Minneapolis.
Susan currently serves on the The Itasca Project and the Minnesota Advisory Board for The Trust for Public Land. She has also served on the Board of Greater MSP, Minnesota Housing Partnership Board, Habitat for Humanity U.S. Council, Sunrise Park Bank Board, The Friends of the St. Paul Public Library Board, Landmark Center Board and the Macalester College Board of Trustees.
Haigh brings an extensive background in community service and leadership to her work serving ten years as a Ramsey County Commissioner and twelve years as Chief Deputy Ramsey County Attorney. Susan has a BA in Political Science from Macalester College and a JD from William Mitchell College of Law. She is married to the Honorable Gregg E. Johnson and they have four adult daughters.