Women Build
Become part of an empowering community. Encounter an environment where you can develop new skills and cultivate your strengths. There are many ways to get involved—you can even support Women Build without picking up a hammer! Join us to build as a team, develop leadership skills, and strengthen relationships.
Let's celebrate the 2023 Women Build season! Join us for our annual thank you event on October 26! RSVP by October 24 >>
Join Women Build at Twin Cities Habitat for Humanity!
The Twin Cities Habitat for Humanity Women Build Program empowers women to come together as volunteers and philanthropists to address the growing affordable housing crisis. After all, affordable housing is a women's issue. The goal of Women Build is to support low-income households through affordable homeownership and to empower women through meaningful volunteer experiences and teambuilding.
We tap into the power of community by offering women the opportunity to leverage their strengths, skills, and resources to address the growing housing crisis. Women Build involves over 1,000 volunteers each year. Involvement ranges from fundraising to construction! Join us in partnering with families to build or make critical home repairs in the community. No experience necessary.
Watch the video below to get a glimpse into a typical day on a build site.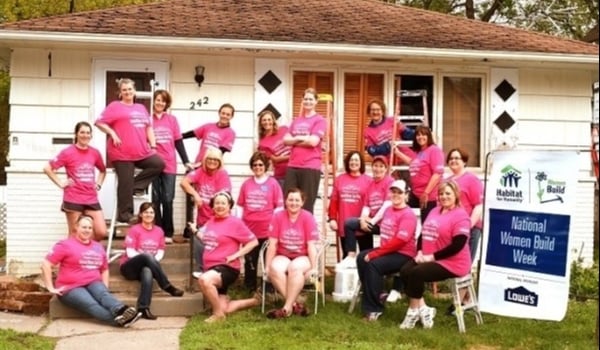 Questions about Women Build?
Contact Us