Your Guide to Corporate Volunteerism
In this guide, you'll learn about the benefits of corporate volunteerism and volunteer time off (VTO) - for your community and your business.
FREE DOWNLOAD
In a hurry? Send yourself the guide!
Corporate volunteering has always been one of the best ways companies can give back to their communities - and it's becoming more and more common.
Photos taken before COVID-19 pandemic. Review our current COVID-19 safety protocols
Corporate volunteering has always been one of the best ways companies can give back to their communities - and it's becoming more and more common. In fact, According to the Society for Human Resource Management, more than 25% of all organizations now offer some form of volunteering in the workplace.
There's a lot to consider if your business is looking for corporate volunteering opportunities – not least of all are health and safety precautions organization are taking during the COVID-19 pandemic. Here at Twin Cities Habitat for Humanity, our volunteers have to abide by our COVID-19 protocols.
In this explainer guide, we'll dig into what you need to know to become a steward of your community at a corporate level. But first, let's answer a simple question: what is corporate volunteering?
What is Corporate Volunteerism?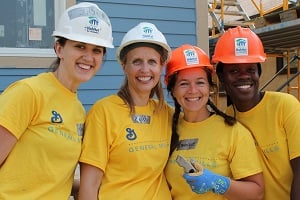 Corporate volunteerism is a way for corporations and their employees to give back to their communities. Corporate volunteerism is a systemic commitment to providing volunteer opportunities throughout the company, and it can take different forms at different companies.
Here are some examples of what corporate volunteerism looks like:
Organizing specific events for teams from within the office to engage in a joint volunteer activity together

Giving employees the flexibility to leave the office during the day to pursue volunteer activities

Matching your employees' volunteer hours with a monetary donation to the organization
Learn more about corporate volunteerism opportunities in our blog: What is Corporate Volunteerism?
While corporate volunteerism is predominantly driven by sending employees out to volunteer sites, there is another form of corporate volunteerism called volunteer time off (or VTO, for short).
What Is Volunteer Time Off (VTO)?
Volunteer time off (VTO) is a great tool to promote corporate responsibility and maintain work/life balance – two of the most important aspects of job satisfaction today. Essentially, it's giving employees a bank of time to use solely for volunteering. VTO is often completely separate from sick time, holiday time, paid time off (PTO), and other forms of compensated non-work hours.
Typically, employees can use VTO to volunteer at an organization of their choice, providing them with autonomy and flexibility in choosing how to give back to their community.
Benefits of Corporate Volunteering
Corporate volunteerism has an overwhelmingly positive effect on the social impact of a company and the satisfaction of its employees. Here are just a few benefits corporate volunteerism has on companies, employees, and communities:
Corporate Volunteering Boosts Employee Satisfaction, Motivation, and Retention
Offering corporate volunteerism increases employee morale. In fact, a Deloitte survey found 70% of employees believe volunteer activities are more likely to boost employee morale than company-sponsored happy hours. Further studies show that millennial employees value corporate social responsibility more than any generation before them, which means that corporate volunteerism is only getting more popular and is more likely to attract younger employees.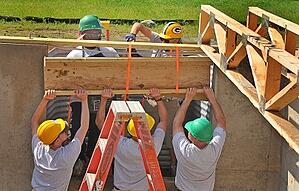 Happier employees naturally leads to lower turnover rates. When they have a non work-oriented outlet like volunteering to spend their time, employees feel happier, experience less stress, and gain more skills, which makes them more empowered – and even more productive. Take this example from Twin Cities Habitat home building volunteer, Tom Collins, who said, "I spent 40-plus years as a journalist and then as a communications executive, and, without question, working on a house for a needy family is much more fulfilling."
If given the opportunity to volunteer together as a team in an extracurricular environment, employees grow closer together, building cooperation and camaraderie. This is just another way that corporate volunteerism boosts your company's productivity.
Corporate Volunteering Reduces Costs
Here's something most people don't realize: VTO can actually reduce overhead! Some sources claim that offering volunteer time off provides some great ancillary benefits, such as:
Reducing HR costs. Again, one of the great benefits of VTO is that it increases employee satisfaction, thereby decreasing the turnover rate.
Word-of-mouth marketing. Ever thought about how your employees wearing corporate T-shirts while volunteering is a great way to advertise your company? Who knows what other potential employees, business partners, and customers could be at the volunteer site! Besides other volunteers seeing your logo, having your company associated with acts of corporate social responsibility could curry favor among the growing percentage of customers who support socially conscious companies over the competition.
Increasing productivity. Time spent volunteering together builds camaraderie, team cohesion, and employee satisfaction.
Corporate Volunteering Lets You Give Back to the Community
A key benefit of corporate volunteerism is that it actually helps your community (of course)! As the old adage says, "doing good does you good" – and that's just as true of companies as it is of individuals. Consider this example of partnering with Twin Cities Habitat for Humanity: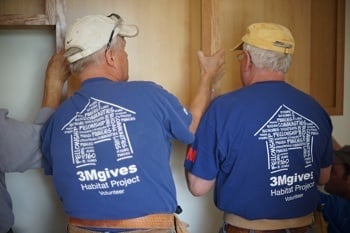 Working on home build sites provides stable housing for qualified first-time homebuyers who may not have otherwise been able to afford a home. It gives the next generation – the people who will join your team or maybe benefit from it in the future – a safe, stable place to learn and grow. Supporting housing nonprofits also means families have a better chance of providing a steady education for their children, and they'll grow up knowing that organizations like yours made it happen.
On Top of Everything Else, Corporate Volunteering is Great PR
Image management isn't so much the goal of volunteering as it is a fortunate side-effect, but when you support a nonprofit organization, your name and logo appear where good is being done. The more you're seen by patrons of the nonprofit, the more positive PR your business is receiving. This word-of-mouth PR is a great way to grow a positive reputation amongst your competition.
How to Pick the Right Corporate Volunteering Opportunities
Now that you've identified the benefits, here's a checklist of things to know when seeking out corporate volunteerism opportunities for your company and your employees.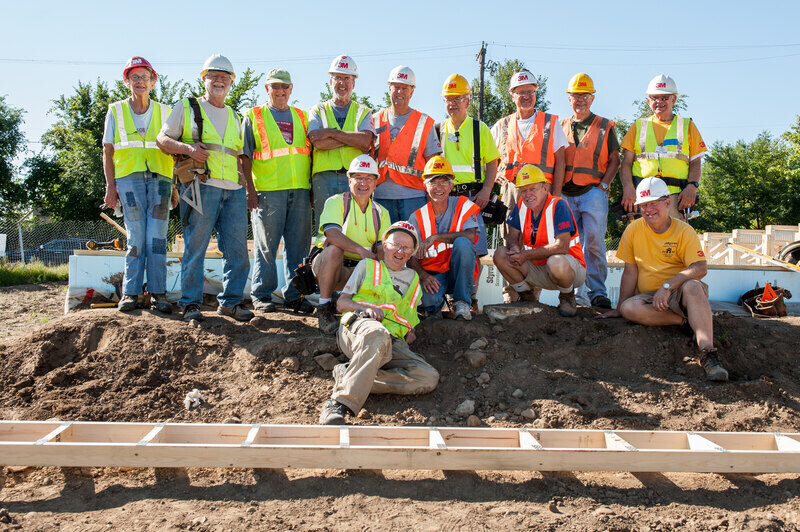 Don't forget about remote workers. In today's pandemic-affected society, practically any company that can work from home is working from home. Many companies are even home to a majority of remote workers. Provide them with VTO so they can volunteer in their communities on company time – and don't forget to send them a company-branded volunteer T-shirt for maximum exposure!

Get your employees' feedback. If you're trying to find a good corporate volunteer partner or if you're just trying to mix up who you support year-to-year, check in with your employees! It's likely that some of them already have built relationships with certain nonprofits that would fit your organization's needs. Plus, it's a good way to build bonds with the employees who are brimming with great ideas.

Make sure it's something you can do on a recurring basis. It's great to get involved in one-off volunteering opportunities, but it's also helpful to have something repeatable (otherwise, you'll have to come up with a new volunteer opportunity on a regular basis). Of course, you can always refer to your employees' creativity, but it's great to have a steady option.
Be flexible with work schedules. Don't forget that your employees still need to work! Allow them to volunteer around their work schedules as needed, if possible. The more flexibility you offer, the better off you'll be.
Offer gifts to volunteering employees. Gifts are a simple and often cost-effective way to tie your employees into the mission of the volunteer organization. At Twin Cities Habitat for Humanity, for example, we offer branded gifts on our online volunteer store. Something as simple and affordable as a T-shirt can really help employees feel more excited about volunteering.

Make sure to take plenty of photos. Documenting your time volunteering is just more of that free, positive PR we mentioned earlier. Share those photos on your company's LinkedIn, Facebook, and Instagram accounts, where applicable. And most importantly, encourage your employees to share photos on their own accounts and tag your company in the post. There could be someone in their network that sees those posts and would love to work for, partner with, or buy from your company.
Corporate Volunteering Opportunities in the Twin Cities
In the Twin Cities, there are tons of great corporate volunteering opportunities right in our backyard. Of course, you'll want to pick one that aligns with a mission your company and employees support, but just for example, here are a few Twin Cities nonprofits and charities that are popular for corporate volunteerism:
Open Arms. Open Arms of Minnesota is a nonprofit that cooks and delivers free, nutritious meals to people living with life-threatening illnesses in the Twin Cities. They offer many group volunteering opportunities in the kitchen, on delivery, and even on the farm! Find more information on volunteer opportunities here.
WATCH: Everything You Need to Know Before Volunteering on a Home Build with Habitat for Humanity [VIDEO]
Conclusion
Your community is the whole point of corporate volunteering. But it does more than help your community – it also helps your company and your employees grow stronger, closer, more empathetic, and more involved in the areas that make your work possible. The benefits are undeniable! If you're interested in partnering with a local nonprofit, check out one of the great organizations listed above or reach out to our team to volunteer with Twin Cities Habitat for Humanity!