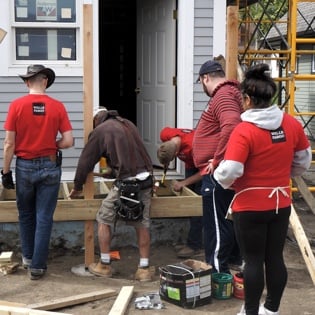 Business owners and managers tend to spend a fair amount of time thinking about how to increase productivity, profits and retention. They recognize that happy employees tend to be more productive, making more profits for the company. They also stay with the company longer, meaning the company doesn't have to spend as much on hiring and training new employees. Better working conditions, more generous paid time off, and other enhanced benefits are just a few of the ways employers are looking to accomplish these goals. Fortunately, more and more companies are discovering that matching employee donations and supporting employee volunteer involvement in the community is an even more powerful way of improving all of these areas.
Companies that get the best results are the ones that proactively encourage and support their employees going out into the community to work on causes and projects that mean the most to them. They let employees do volunteer work while still on the clock and they financially and logistically support the nonprofits their employees are working with. This combination is a potent way of increasing employee satisfaction, company morale, productivity, profitability, community engagement, and sales. It's a win-win-win situation for all.
More involvement doesn't have to mean more complexity or more work for the company. Simplicity usually translates directly to effectiveness. Here are some suggestions on approaches, programs, events, sponsorships, etc., that might be worth taking a look at. At a minimum, these ideas should spark a brainstorm that results in a better fit for your company. They are grouped into categories to make it easier for generating new ideas.
Have Teams Participate in Fun Events
Have a company team participate in a Warrior Dash or Run, with rewards of prizes for employees, and increased donations to a selected nonprofit, like A Brush With Kindness. These can be made more fun, and memorable, if team participants wear funky costumes. A team from one employer all did a Warrior Dash wearing tutus – guys included! The team loved it, and when the story was posted on Social Media and in the newsletter, the company's customers loved it, too.
Create a fun event as a fundraiser for a nonprofit, such as a snowball fight in mid-summer, or kayak race down the ski slope in winter. Events that are unique and unexpected are fun to plan and participate in. They can also draw a larger pool of participants, leveraging the company's efforts. It's very rewarding to be part of a team that puts one of these events on, and companies benefit from the positive attention drawn to it by other participants and by supporters of the nonprofit. The possibilities for publicity don't hurt, either.
Working with kids has its own inherent rewards, and challenges. Just encouraging employees to spend time with kids yields rewards, but creating a special event that pairs kids with company employees can be a lot of fun, and provide tremendous rewards for employees, the company, and the kids. One popular event is to put on a fishing contest that pairs kids with an employee to spend a day fishing, picnicking and playing.
Have Company Teams Perform Work in the Community
Taking on a day, a week, or even the entire project, for a Habitat for Humanity house build or A Brush With Kindness event, is a great way for employees to get hands-on. Employees who work on Habitat houses report a deep level of satisfaction and accomplishment, as well as better connections to co-workers that positively impact productivity throughout the year. If swinging a hammer or a paint brush doesn't suit you, then have them spend time volunteering at the ReStore. Sharing stories about employee experiences during a volunteer event can be retold in company newsletters, stretching the impact of the day.
Doing good for the environment is getting to be more attractive these days, so look at planting trees, or doing a shore or bank restoration along a local lake, creek or river. Like a Habitat house, the results are immediately visible. In addition, the entire community benefits from projects like these, and that means local media are more likely to tell the story. That's good for the company.
Adopting a section of highway and having employees take on keeping it clean, maintaining the garden at a school or park, or finding other hands-on experiences for your employees, pays dividends that can pay returns far beyond the cost of employee time.
Leverage Your Employees Gifts and Experience
Some of the most rewarding programs for employees come from being able to use the skills they've developed at work, or from outside interests.
Become a mentor at Junior Achievement, at the Boys and Girls Club, or other similar programs. I was in JA and learned a lot from the experience. I ended up as the emcee for their Futures Unlimited Banquet, and I'm still complimenting the company for sponsoring us. A friend in my J.A. company ended up getting his college paid for by our sponsor company and worked for them his entire career.
An adopt-a-school program can work at schools at all levels. Reading in the classroom, or helping with art programs, or collecting school supplies is good for elementary schools. My kids both loved being able to spend a day of middle school "working" at a local company to see what it's like. For high-schoolers, lending your expertise as a guest teacher, or mentor is powerful. There are also groups like DECA and other clubs and organizations that can benefit from employee expertise and experience.
There are thousands of ideas out there, and many of them can be adapted to fit the unique expertise, experience and interests of your employees, as well as your community and constituencies. The key is to be proactive and invite your employees into the process. Let them tell you what is important to them, then do what you can to support their efforts. When you do, the rewards are usually far beyond anything you imagined. As the Edelman GoodPurpose study discovered, doing good isn't only good for business, these days it's a requirement.
Obviously, we'd like you to consider sponsoring a workday, work camp, or home build with Twin Cities Habitat. If your company chooses to work with Habitat, that's fantastic. But if not, then find other nonprofit and community service organizations in the Twin Cities that do great things. The key to greater employee engagement is simply choosing to support your employees and encouraging them to volunteer.
The research shows that encouraging employees to become community volunteers improves morale, productivity, retention, and even the bottom line!