Saturday, July 15th, at 10:00am
1039 Aldrich Ave N, Minneapolis
Celebrating Abdi & Ahmuun, Eshetu, Saynab, and Octora
Thursday, July 20th, at 6:00pm
2700 Morgan Ave N, Minneapolis
Celebrating Abdurahman and Niama
Click here to read stories from recent home dedications.
Dedications Committee
The Dedications Committee is responsible for hosting every dedication that happens at Twin Cities Habitat for Humanity. Committee members do everything from setting up tables, to greeting guests, handing out programs, or emceeing the dedication.
Thank you to our members!
Vanessa Christensen, Win Curtiss, Susie DeShon, Amanda Galvan, Jen Mattocks, Karin O'Connor, Valerie Redmon, Virginia Vogt and Kari Woodson.
RAISE A GLASS FOR TOMORROW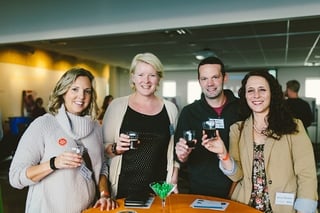 Hosted by the Habitat for Humanity's Young Professional Network, Raise a Glass for Tomorrow is an annual fundraiser that brings together 150+ local, community-driven young professionals for an evening of food & drinks, music, games, and much more. All proceeds support the construction of safe, affordable housing in partnership with local homebuyer families.
View photos from this year's event.