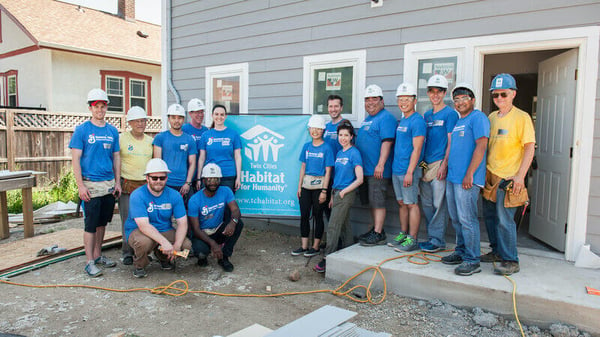 Corporate volunteerism is a way for corporations and their employees to give back to their community. Volunteer time off (VTO) is a great tool to promote work/life balance and corporate responsibility, two things that are important to workers today.
Using VTO as part of your comprehensive benefits package is a growing trend across the country. According to the Society for Human Resource Management, more than 25% of all organizations now offer some form of volunteering in the workplace. Companies they surveyed say the benefit helps in both recruitment and retention among workers who say that work/life balance is a concern.
How Does It Work?
Companies use a few different models in their volunteer efforts. Your company may already be doing some of this without taking credit for it:
Organizing specific events where teams from within the office (or sometimes the entire office) head out to do a joint volunteer activity. (Habitat for Humanity has some great options.)
Giving employees a bank of time (separate from vacation and sick time) to use at their discretion
Offering flexibility to leave during the day for a couple of hours (to allow a parent to volunteer with their kid's school or for an employee attend a volunteer board meeting, for example)
Matching employee's hours with a monetary donation to the organization
Formalizing a program is not only a good way to track employees' volunteer work, but it's also a great tool to promote the company and recognize employees for the hard work they do outside of the office.
What About The Cost?
You may think a program that allows workers to be out of the office would hurt the bottom line, but research has shown quite the opposite. Employees at companies that offer VTO have been found to be more engaged, loyal, and productive.
We've all seen stories about companies adding gaming areas and hosting happy hours for their employees, but it turns out that a good VTO policy may be an even better investment. A Deloitte survey found 70% of employees believe volunteer activities are more likely to boost employee morale than company-sponsored happy hours. Those surveyed agree that companies that sponsor volunteer activities have a more pleasant work atmosphere. Furthermore, at Habitat home builds for example, volunteers not only work together for a common goal, but they're also learning valuable skills from construction to leadership and management.
Rolling Out the Benefit
Remember: You set the rules. Employees still need to schedule their time out of the office like they would for the vacation benefits you offer. Consider things like:
Can they use the time hourly or should it be scheduled in half-day or full-day blocks?
Will this be a "use-it-or-lose-it" benefit, or will it roll over from year to year? (Typically, it's use-it-or-lose-it).
How much is right for your company? Smaller employers might consider offering eight hours of VTO for employees to use by the hour over the course of a year. Large companies (like Patagonia) offer two months of leave for their Environmental Internship Program
Make sure to keep track of your VTO and share the results with your employees. Celebrate when people use all their time.
When your employees are out volunteering, consider giving them a branded company shirt to wear. It may sound silly, but it lets them show their pride in the company they work for and it lets the organization see they work for a company that cares enough to give their employees time to volunteer.
If you're trying to build a great company culture and attract the best job candidates, a solid VTO policy is a great tool to add to your benefits package. It shows your current and potential employees your company is invested in the community and it helps them feel rewarded in the work they do outside the office. A good VTO policy boosts work/life balance, keeps your employees happily working, and proves you're a committed partner in the community.
Schedule Your Corporate Volunteering Time with Habitat for Humanity