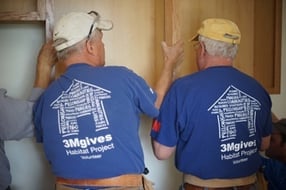 Now more than ever, recruiting and keeping top talent is a challenge for today's companies. People want to bring home a paycheck, but they also want to feel good about where they work and what they do.
Surveys show a corporate philanthropy emphasis, like giving back to the community, is a great way to build morale among employees and increase retention. Deloitte asked workers and found 70% believe volunteer activities are more likely to boost employee morale than company-sponsored happy hours. Even more workers (89% in Deloitte's survey) said companies that sponsor volunteer activities offer a better overall working environment than those that do not.
Matching Your Employees' Passions
There are many ways companies can show they care about the things their employees care about. These include offering paid time off to volunteer and matching the gifts of time or money that employees are already making.
Andersen Corporation, based in Bayport, MN, has built an incredibly strong corporate culture in part by supporting Habitat for Humanity across the United States for decades in its mission to close the racial equity gap in housing.
"Creating a space where volunteerism is encouraged, both as an individual on your own time and also during work hours on opportunities we provide, like Habitat for Humanity builds, is important from a cause marketing standpoint," says Traci Norum, Community Relations Specialist at Andersen. "But it also creates a greater level of employee engagement and employee satisfaction here at Andersen."
One of the tools Andersen uses to recognize employees is YourCause. This is software that tracks employee volunteerism and donations and allows companies to match or support their workers' causes. For example, for every 10 hours an Andersen employee volunteers for a nonprofit, Andersen makes a $50 donation to that organization.
Other platforms offer similar functionality. Two you can compare to YourCause are Selflessly and Alaya. These are easy-to-deploy systems that can help a company get started down the road of supporting their employees' favorite causes.
Leading By Example
Another tactic Andersen relies on is corporate volunteer events. Andersen employees build Habitat homes across the country. It's something that many workers look forward to every year. Lots of department leaders use the days as team-building events.
"As soon as spring starts, wherever that is in the country, that's when it starts happening," says Traci. "I start hearing from employees in February or so, 'Hey, what kind of builds do we have going on this summer?' I think the evidence that it matters is really in the fact that they reach out to our department so they can have an opportunity to give back."
Since Andersen makes doors and windows, their employees can use their expertise on Habitat's homebuilding sites. This synergy points to another strategy companies can use to build a culture of giving—skilled volunteerism.
Many nonprofits have the same kinds of needs that businesses solve for every day. That could be in accounting, IT support, legal guidance, marketing, or project management. Companies, employees, and nonprofits may all get more out of volunteerism if needs and skills can be aligned.
One example of skilled volunteerism that may be overlooked is service on a nonprofit's board of directors. This is a great opportunity for a company to recognize an employee who is going above and beyond in trying to make a difference in the community. For example, Gap offers grants of $1,000 to $10,000 to nonprofits where its employees serve as volunteer board members.
It may not seem obvious, but supporting the causes of employees who have retired is another way to build culture. Twin Cities Habitat has enjoyed decades of support from 3M and a big part of this has been through the volunteerism and giving of 3M retirees who help build several homes each year. This model keeps former employees linked both to the company and its community service efforts. Supporting employees transitioning out of the workplace is another way companies can show their current workers they care about them long-term.
"We think about how our employees see the company showing up in their communities," says Traci. "This community is where all of our employees live and work, it really says to that employee that the company cares about where the employees live and work."