It's no secret—we wouldn't be able to work toward our mission without all kinds of volunteers. From working at build sites with a group (or individually) to helping out at our ReStore Home Improvement Outlets, volunteers keep us moving forward.
But volunteering benefits those who serve, too! Habitat for Humanity International recently published an evidence brief outlining the value of volunteering.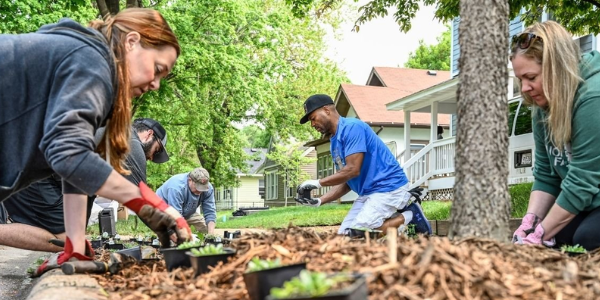 The Benefits of Volunteering
According to the brief, "the value that volunteering brings to the organization served is well-known, but the impact of volunteering doesn't stop there. Although many people are motivated by a sense of altruism, the volunteers themselves walk away with benefits."
"Volunteering is associated with improved health and well-being, including increased longevity, adoption of healthy lifestyles, and reduction in depression and stress," the paper explains. "The service volunteers provide also goes on to benefit the communities in which they live and serve."
Volunteering can also improve the following:
Workforce opportunities and career development
Leadership skills
Wages for women
Well-being for veterans - and everyone
Risk of cognitive decline for older adults
and more!
Spending time volunteering with Twin Cities Habitat for Humanity can also strengthen your existing friendships and create incredible memories - volunteer Tori even spent her bachelorette party painting a home with her friends!
Volunteer With Us!
Looking for an opportunity to serve your community while growing personally? Join us at Twin Cities Habitat. We have many individual and group volunteer opportunities to suit all kinds of different skills, interests, and needs. You can sign up to volunteer for most opportunities without having ever set foot on a build site or worked a cash register - you'll get all the training you need. There's a place for you here!