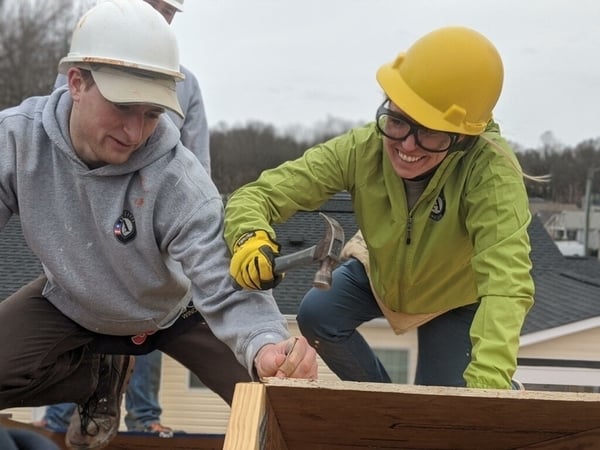 Photo taken before COVID-19 pandemic. Review our current COVID-19 safety protocols.
Corporate volunteerism can be an extremely powerful tool for making a positive impact in your community. In recent years, there has been significant growth in volunteer participation from organizations of all sizes, from every industry. According to Charities.org, "nearly 60% of companies offer paid time off (PTO) for employees to volunteer, and an additional 21% plan to offer release time in the next two years."
The public health concerns brought on by the COVID-19 pandemic mean you may have to look for alternate ways to volunteer at certain organizations, as many nonprofits have instituted new volunteering regulations in the interest of public hygiene (and some aren't accepting volunteers at all right now). There are still ways to help out, though – when researching a nonprofit to support, ask about their COVID-19 safety protocols for volunteering. Or consider other ways to support like financial donations, advocacy, or fundraising on their behalf. In the end, you should choose an organization and volunteer opportunity that you and your group are comfortable with. For an example of COVID-19 safety protocols for volunteers, check out our latest guidelines here (PDF).
With a handful of variables that you'll need to consider, planning a successful volunteer event for your company can be a bit tricky – but it's not impossible.
Here are some things you'll want to consider when organizing a corporate volunteer opportunity:
Which non-profit or volunteer effort do you want to support? How will you decide?
Would you have more success hosting an in-house event or an on-site one?
What will your attendance policy be? How do you get buy-in from leadership and the rest of the company?
Choosing a Non-Profit
There are ample opportunities for your company to make an impact in your community by simply giving your time. That said, you'll need to narrow in on which non-profit you are going to support. There are a couple of different ways to go about this, but let's start by looking at your company's values.
When you take the time to evaluate the social causes that are most relevant to your company, there may be an obvious candidate for your volunteer efforts. For example, if your company places a high value on environmental sustainability, perhaps you would choose to support a local non-profit focused on protecting natural resources.
The size of your company may also factor into what opportunities are available to you. If you're hoping to have a group of 50+ employees volunteer at the same time, some non-profits won't be able to handle a group of that size. If you have a larger group of employees participating, you may want to consider splitting up into smaller groups and volunteering your time in waves.
Another great way to unite your company behind a particular cause is by getting feedback directly from your employees. This could come in the form of a poll or questionnaire. Hearing what your employees are passionate about will give you a great starting point as you start brainstorming potential organizations to volunteer with.
Lastly, you may find the most success from reaching out to some of your local non-profits and getting a feel for what they need. This will give you an idea of which organization will benefit this most from your company's contributions and which make the most logistical sense for your group.
Hosting In-House Volunteering
If you're finding that it's not practical to have large groups of employees out of the office at one time or it's just too difficult to line up schedules, then hosting an internal volunteer event at your office may be the best route for your business.
You and your company still have the opportunity to provide a great service to your community by hosting events such as:
Blood drives
Fun-run or 5K
Food drives
Kitting (assembling medical kits, school supplies, or bagged meals)
Hosting an event at your office makes it easier to coordinate schedules as you can block out smaller amounts of time for people to participate, making it easier to fit into people's workday.
It's a good idea to establish an ongoing relationship with the non-profit you're working with, as a successful event could become an annual corporate volunteering opportunity.
Getting Buy-In
You must do whatever you can to make sure your company's volunteerism is a unified effort. An important key to achieving this is gaining support and participation from leadership within the company. The rest of the company will be inspired when they see their leaders getting excited and involved in volunteering.
Whether or not you will be offering paid volunteer time off to your participating employees is another discussion you'll need to have. Volunteer time off (VTO) can be an additional incentive for your employees, and it will empower remote employees to go out and volunteer on their own.
With all of this being said, assuming you can avoid causing major disruptions to your business, there's really no wrong way to go about volunteering as a company. Your chosen organization, community, and employees will benefit from your generosity.