What a year this has been. I think it began fifty months ago. And it seems like a long ways from ending. As someone said: is this March 258th? But, in fact, it is November. We are deep into the Fall. Thanksgiving is upon us. And the holidays and New Year are in sight.
I have written through the year about the challenges this year has brought. We know them well. There is no need to recount them. Yet, despite all the tumult, the Twin Cities Habitat for Humanity community has continued to generously support local families and make the Twin Cities a more fair and equitable community for all.
As we celebrate this strange, difficult Thanksgiving holiday, we can't forget the power of gratitude. Gratitude helps us see light in the darkness and, this year, all of us at Habitat have so much to feel grateful for.
I'm grateful for the frontline heroes, including many Habitat homeowners, who are fighting hard to keep us safe during the pandemic.

I'm grateful for the thousands of volunteers who showed up on construction sites this summer, stuck to our COVID-19 safety guidelines, and kept on building homes for Twin Cities families. (And thanks to the many people who rolled with our changes to volunteering this winter.)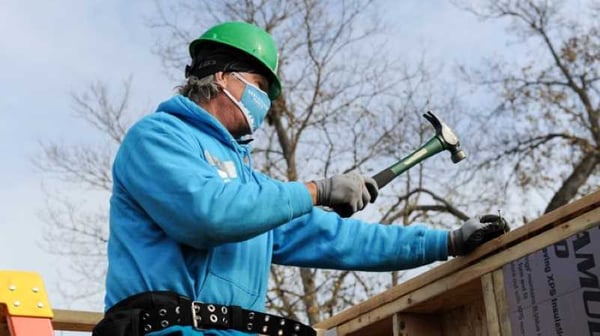 I'm grateful for the many clients who've been patient through our transition to a virtual world and who continued to trust Habitat to be their partner in achieving and maintaining homeownership.

I'm grateful for the generous donors who stepped up when their neighbors needed it most—who invested in our At Home Fund to protect Habitat homeowners and create more homeownership opportunities.

I'm grateful for our amazingly talented Habitat staff and Board of Directors who, in the face of difficult times, continue to serve our community with compassion, excellence, and grace.

More than anything, I'm grateful for home. For shelter. Safety. Stability. Inclusion. Warmth. Compassion. Love. And I'm grateful for the vast and dedicated Habitat community who want more of our neighbors to know the transformational power of homeownership.

Thank you for all you have done this year. Stay safe. Care for each other. And have a restful and peaceful Thanksgiving.

Chris