You create home, and home is everything.
Home. It's a shelter from storms. It's where families celebrate together and comfort each other. It's where you can let down your guard and be yourself. It's become our classroom, our office, and our workout studio. Home is essential for public health, as COVID-19 lays bare. And it's a building block for racial equity.
This year has been hard. But you—you stepped up big time, joining with your neighbors in an outpouring of generosity to fight the twin crises of COVID-19 and systemic racism. From July 1, 2019 to June 30, 2020, 735 families partnered with Twin Cities Habitat for Humanity, including 105 families who bought homes of their own.
Thank you.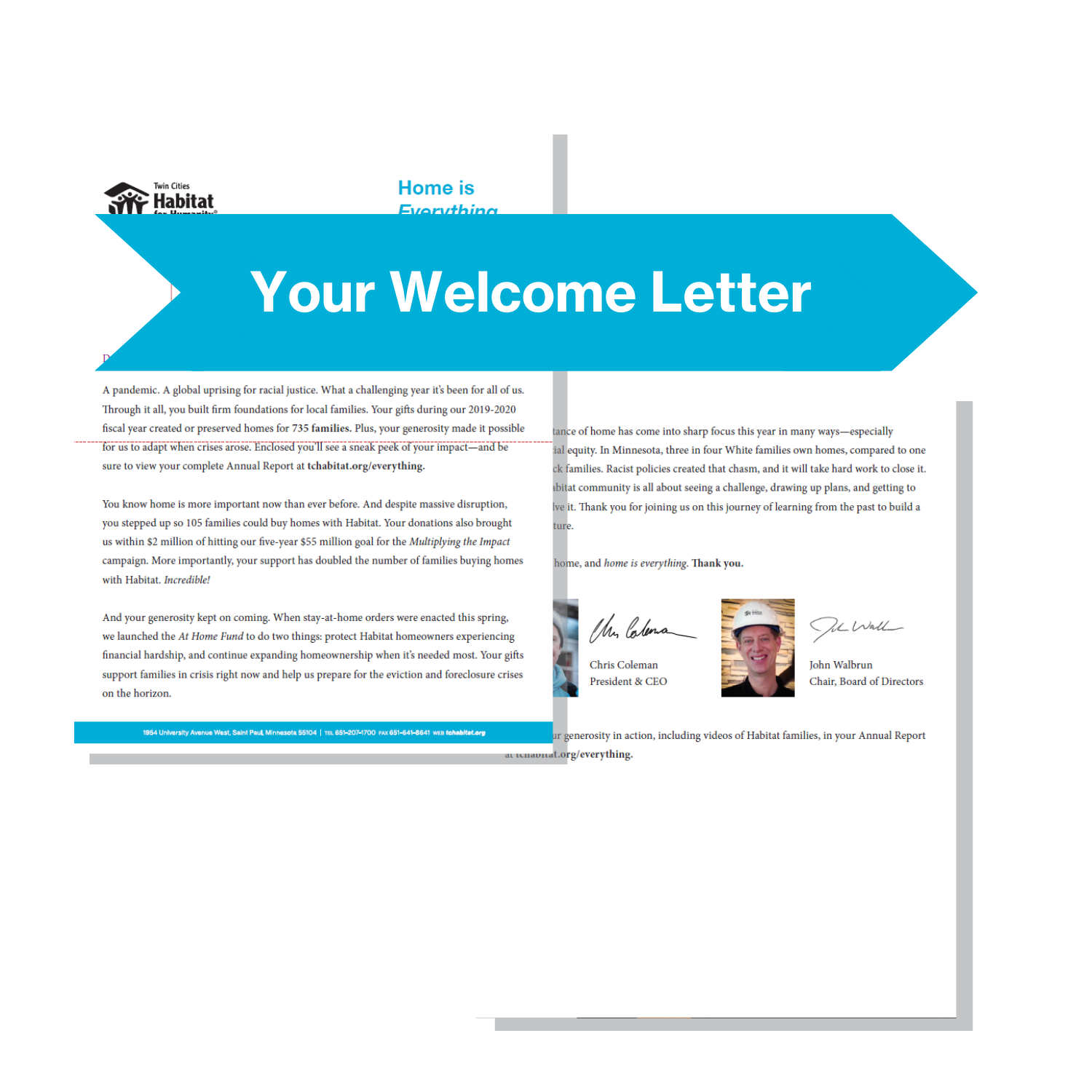 "A pandemic. A global uprising for racial justice. What a challenging year it's been for all of us. Through it all, you built firm foundations for local families. Your generosity made it possible for us to adapt when crises arose. Thank you."
– Chris Coleman, President & CEO, and John Walbrun, Chair, Board of Directors
Juanita and her husband Jacques bought their Habitat home in 1995. It's where they raised their five kids, where Juanita studied to earn her Bachelor's Degree, and where the family gathers for holidays.
When COVID-19 hit, their home became Juanita's workspace and a place where Jacques could rest between shifts at the Minnesota Veteran's home. Some of their grown children are essential workers as well. Through all the uncertainty, Juanita knows her stable home will always be there for them—and that makes all the difference.
"That comfort, that security, that reliability, knowing that this is still home no matter what—it's huge."
– Juanita, Habitat Homeowner since 1995
Symphonie lives in a Habitat home that's famous. It was part of the Twin Cities Jimmy & Rosalynn Carter Work Project in 2010, and Symphonie's mom Melo got to work on her home alongside Jimmy Carter himself. And that was just the beginning for Melo and her children, including Symphonie.
Having a Habitat home meant Symphonie finally had some space of her own where she could study, get some quiet, and be herself. It was the strong foundation she needed to pursue her dreams—just like her mom.
"Moving into a Habitat home has really allowed me to excel in school and allowed me to be where I am now."
– Symphonie, daughter of Melo who bought a home with Habitat in 2011
Bethany, our Mortgage Portfolio Manager, receives the calls from Habitat homeowners about their affordable mortgage payments. Within the first few weeks of COVID-19, Bethany heard from hundreds of worried homeowners facing a loss of income, suddenly struggling to make ends meet.
Thanks to the generosity of supporters like you, Bethany could offer homeowners a deferment on their payments without penalty. This was the lifeline homeowners needed as they faced unemployment or recovered from illness. The relief was immense.
"When I called, I could just hear the relief in his voice. Just a little bit of relief can help get you through the whole storm."
– Bethany, Habitat's Mortgage Portfolio Manager
105
families bought homes with Habitat
215
people graduated from financial coaching into mortgage readiness
43
A Brush with Kindness home repair projects completed to preserve homeownership
44
seniors received home safety modifications through our Age Well at Home program
22
Habitat homeowners paid off their mortgages, bringing the total to 146
55
non-Habitat homeowners received counseling to prevent foreclosure
64
international families bought homes thanks to our Global Impact Fund and Global Village volunteers
735
Total number of families who partnered with Habitat
Includes every family who had at least one financial coaching session toward homeownership
10,950
volunteers gave of their time on Habitat home builds and rehabs, at A Brush with Kindness home repairs, in our ReStore Home Improvement Outlets, in the office, and more.
146,419
hours served by volunteers
63
AmeriCorps Members
37,292
hours served by AmeriCorps Members
820
Action Alert messages sent to lawmakers to advance affordable homeownership
156
people joined our first-ever Virtual Habitat on the Hill advocacy day
Top 3 Construction Volunteers:
1. Ann Norberg, 723 hours
2. Corey Sauer, 630 hours
3. Bob Wageman, 564 hours
Top 3 ReStore Volunteers:
1. Gordy Weaver, 719 hours
2. John Leier, 696 hours
3. Tom Melena, 333 hours
Top 3 Office Volunteers:
1. Bonnie Power, 271 hours
2. Jack Shea, 188 hours
3. Jerry Cromer-Poiré, 184 hours
Race and Housing
Homeownership is the primary way we build wealth and pass it down to future generations. But throughout history, racist housing policies kept BIPOC (Black, Indigenous, and People of Color) Americans from owning homes and building equity. Today, Minnesota has some of the widest racial disparities between Black and White families in the nation.
We need to be as intentional in closing these disparities as we were in creating them.
This year, we've been reckoning with the legacy of systemic racism in housing. Join us in learning from the past to build a better future in our Race and Housing Resource Center.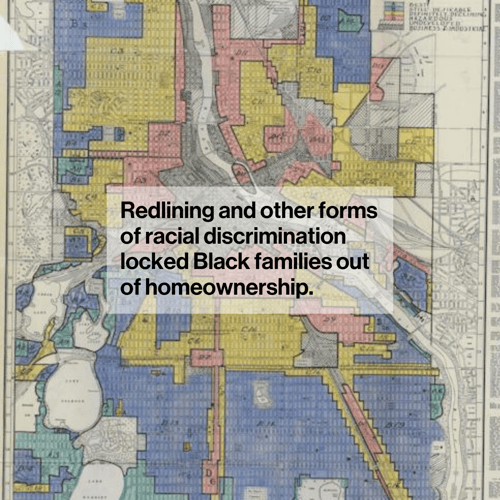 6,880
donors gave a total of $14,614,069
108
Legacy Circle members included Habitat in their wills
86
faith-based groups lived out their values by supporting Habitat
397
businesses provided financial support to Habitat projects