Here at Twin Cities Habitat for Humanity, we love to celebrate. And we are fortunate that we have a lot to celebrate. Over the last several months, we've gathered for more than a dozen home dedications to celebrate our hardworking, awesome homebuyers, our committed and generous volunteers and donors, and the tremendous outcomes we can achieve when we bring these groups together: safe, affordable homes for families in our community.
Last week, we hosted our final home dedication of 2014 on Pottok Lane in Shakopee to welcome Mohamed Ahmed & Jawaher Taher to their new house and recognize the sponsorship of Delta Air Lines that made construction possible. When Mohamed and Jawaher's children arrived, it became apparent that they had not yet seen the home. Their joy could be both seen and heard as they ran through each room picking their favorites and testing out the doors, lights, and doorbell. Jawaher listened to her kids with a huge smile and said, "This feels like a dream… I need to wake up!"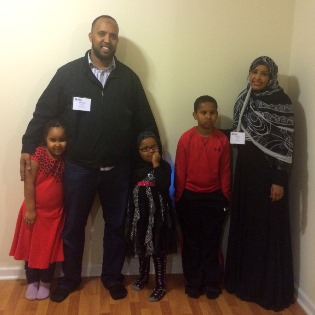 Mohamed spoke on behalf of his family thanking Habitat, the site supervisor David Michaelson, and Delta Air Lines for its sponsorship and help during construction. Mohamed has a degree in Accounting and Jawaher is working to complete her nursing degree. They believe that stable housing will help their entire family, especially their four children, excel in education and in life. They look forward to being productive and positive members of society and their new neighborhood.
State Senator Eric Pratt assured Jawaher that this is not a dream—"You worked for this!" And they certainly did. Habitat homebuyers must demonstrate need, qualify financially, be willing to do 300-500 hours of sweat equity, and complete 11 homeownership training courses. Senator Pratt congratulated Jawaher and Mohamed for achieving this point and wished their children the best of luck. He and Representative-Elect Bob Loonan both discussed the excitement of having a home for the kids to make memories and to which they can return for many years to come.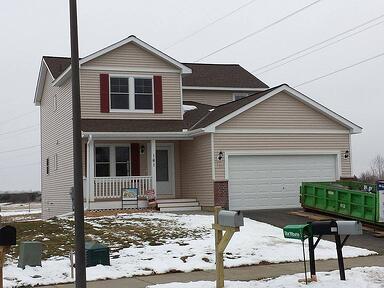 Andy Zarras was excited to represent Delta Air Lines in welcoming the family to their home. He told Mohamed and Jawaher that they now have the privilege of setting a great example for their children, their relatives, and their community. In addition to its generous sponsorship, Delta had more than 800 employees work on this home. Through a long-standing partnership with Habitat for Humanity, Delta Air Lines has built over 200 homes around the world.
Riley Moynihan of Twin Cities Habitat expressed his gratitude for Delta's support and for the family's hard work and commitment. He shared that home dedications are one of the best parts of his job, because they bring together all of the pieces of the puzzle and represent new beginnings for families.
For more information and to see a schedule of upcoming Twin Cities Habitat home dedications, click here.