"You aren't just putting steel and bolts together to construct a house. You're creating an idea of a place where you have the freedom and privacy to do as you wish. A place where families bond and grow together through the good and bad; a place so profoundly familiar that you don't even have to notice it, yet everywhere else you take notice. Home is home, and everywhere else is not home. A home is what shapes who we are."
-Abdul and Afoussatou, Habitat Homebuyers
At the conclusion of each build, when families have completed all the requirements and are ready to buy and move in their new home, Twin Cities Habitat holds a Home Dedication. Volunteers, sponsors, neighbors, community supporters, religious leaders, staff, and extended families gather to celebrate the beginning of this new chapter-or in this case, three new chapters.
Last week three Twin Cities Habitat homeowner families celebrated together in a program that challenged the definitions of community and neighbors. Though the families are moving into different areas of the Twin Cities, there was comradery and excitement as the parents greeted each other and the children ran through the house together.
Karin O'Connor, a member of the Dedications Committee and host of the evening's program, spoke about Habitat's focus on "growing the community" and creating supportive, thoughtful neighbors.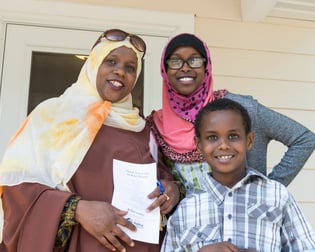 Bonnie Herr, a member of Plymouth Congregational Church, was a volunteer worker on Asha's home in Columbia Heights. She says that as she worked side-by-side with Asha she discovered that they had more and more in common.
"I found out that she had been living only a block or two away from me for the last eleven years. Then we started talking about our children. I learned that she has two school-age children. The pieces fell together and we discovered that my daughter is her daughter's teacher!" said Bonnie.
These connections brought the families together and they continue to be close today. Bonnie fondly recalls how small Asha's children were when they first met. "You never know who you'll met. It really is a small world. And we are all neighbors."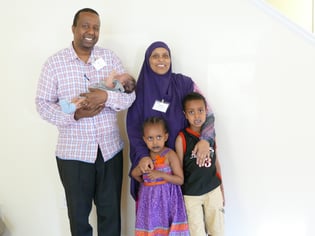 Said, Badriya, and their family are moving into a home in Blaine. They are happy to call the Twin Cities home. Said says he came to Minnesota seeking the "money beneath the snow." Instead, he met Badriya and soon started a family. The family of five has moved around a lot, but want their kids to grow up safe and together. Their path to homeownership took more than three years and included homeownership training courses and five hundred hours of sweat equity.
Both Said and Asha's families were motivated by health concerns. Children in both families have had asthma attacks triggered by smoke and mold in their previous apartments.
Said shared, "We are so excited and grateful for this opportunity to have a safe, affordable place to live that is smoke-free." He is already an active community member, co-founding East African Community Alliance, and is excited to get involved in the homeowner's association board in Blaine.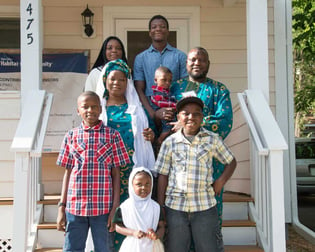 Melissa Steiner was the Site Supervisor for Abdul and Afoussatou's home. She recalled painting trim with Abdul.
"I asked him what made him decide to build his home through Habitat and he told me that he never thought having a house was possible for his family. That really stuck with me."
Sue Haigh, CEO and President of Twin Cities Habitat, pointed to the overwhelming contributions from sponsors and volunteers that make each Habitat home possible: "If every person that had contributed even a little bit of time was in this room we would be bursting out the windows!"
Thank you to all who made these three homes possible, especially our tremendous Partnering Sponsor Bank of America and Contributing Sponsors KPMG and PwC. Find more photos from the dedication here.