Last week was filled with happiness as Habitat staff, volunteers, and sponsors celebrated three families. As the summer wraps up and the school year kicks off, the families could not be happier to begin their lives in new homes.
On Saturday, August 12th an excited Habitat partner family walked through their Prior Lake home overjoyed with the outcome. Homeowner, Ali, spoke highly of the things he's learned through Habitat homeownership classes:
"Thanks to all the people who volunteered to build this house. I've learned to be honest, to be kind, and to be helpful."
The home was beautiful with tons of space for the family of three. Site Supervisor, David Michaelson, spoke on the uniqueness of the build. The materials used for the home are more durable and energy efficient. The outcome was so great that they duplicated the build this summer. The major sponsor of the home was Delta. Habitat staff member, Riley Moynihan, works closely with Delta, and recognized their incredible effort on making this home a reality:
"On this home, Delta was out here for six plus weeks. Volunteers are the back bone of this organization. I hope you know that a whole lot of love went into making this house possible."
The dedication ended with a special gift from the students at Grainwood Elementary. They presented the family with a beautifully crafted wooden box with all the students' names written on the bottom.
The sunny Saturday started off a great work week leading up to a Thursday home dedication for two more Habitat families. This dedication was extra special because they were neighboring homes.
Homeowner, Ana, seemed relieved and excited to see her new home:
"The journey, it's been crazy to say the least."
Ana was expecting her third child during homeownership classes and sweat equity hours. Her beautiful son was born early, throwing her off the homeownership process. She, and all those in attendance, were glad the baby was healthy and Ana completed the journey. "As far as this whole experience goes, it's been great. I thank every single one of you."
The second family, and Ana's new neighbors, traveled throughout the home with their seven kids. The father, Abdullahi, stood proud of the work they put into their home, "It was tough, we built the home during Ramadan and worked 50 plus hours. Thank you to everyone who helped us build this home." Tough indeed!
The Minneapolis homes had incredible sponsors and volunteers putting in countless hours. Representatives of our sponsors joined us for the celebration, including Wells Fargo, Cargill, and Health Partners & Park Nicollet.
Cargill representative, Dave Hoover, shared how when he drove up to the house, walked around in the empty bedrooms, his GPS was still activated and told him he arrived. He smiled knowing that this reflects the family's accomplishments and they have truly arrived.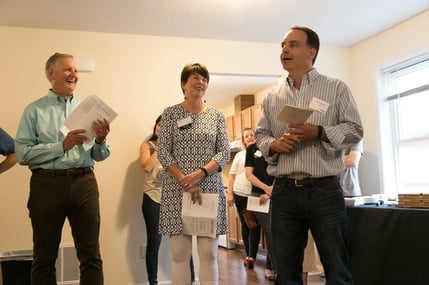 Wells Fargo representative, Kristi Carstensen, shared that Habitat for Humanity has been in her life since her teenage years. Kristi was proud to work among her Wells Fargo volunteers, sharing she was one of 470. She looked at the families with a smile:
"What a wonderful thing to change your future."
Twin Cities Habitat's Vice President of ReSource Development and Community Engagement, Cathy Lawrence, reflected on a dedication when a young girl wrote in chalk "best day ever."
"Whenever we get together to celebrate a family, it is the best day ever."
The program wrapped with a Golden Rule presentation and the dedication litany presented by Twin Cities Habitat's Board Member and Cargill Executive Team member, Todd Hall.
"This is the arrival of a long journey and I know you have put a lot of hard work into these homes. These dedications are so special to me."
That is what these celebrations are and will continue to be, special.