How does a house become a home? It takes an amazing amount of kindness.
The sort of kindness Twin Cities Habitat volunteers show every day as they help build houses like the one Hassan and Asha recently purchased in Bloomington.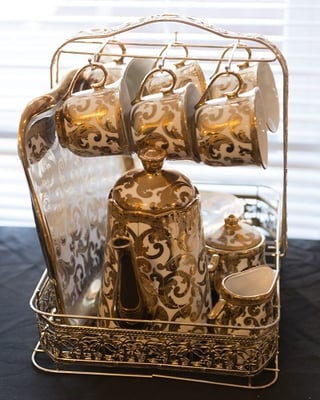 It also takes the sort of kindness Asha shows as she pours traditional, milky, sweet tea for the Habitat supporters and loved ones who gathered to dedicate her new house on a crisp fall day.
A home needs cherished objects that are filled with love—like Asha's exquisite tea set and the warm quilts for each family member made by volunteers from Mount Olivet Lutheran Church of Plymouth.
A house is a structure, but home is a feeling. It's the feeling Hassan and Asha's son expresses when he stands in his finished bedroom for the first time. He smiles and asks what the egress window is for. Then, turning in a circle in the modest room, exclaims with delight "It's so big!" A home is a place that a child is excited to return to at the end of the school day. Home is a safe place where the idea of lifelong learning begins.
It's hard for a place to be a home if it's plagued with leaky pipes and insect infestations like the last place Hassan and Asha were renting.
A home has the positive energy of hope flowing through it. Hassan and Asha's hopes are that all four of their children will now be able to go onto college and that Hassan can earn his Master's Degree. A home is a stable foundation where futures can be planned. A Twin Cities Habitat home is affordable so those plans can be even bigger.
A house is an asset on a balance sheet, a home is an asset to an entire community. Jon Oleson, the Bloomington City Council Member who represents Hassan and Asha's new neighborhood, personally welcomes the family at their home dedication and invites them to be involved with their community. David Stay, a Financial Associate for Thrivent Financial (Twin Cities Habitat's #1 sponsor), speaks about how great it is to help build a Habitat home as a volunteer.
Hassan thanks the city, the volunteers, and the sponsors who came together. He talks about the joy of volunteering alongside people of very different backgrounds in building his home.
A home is a healthy place to gather and play. Asha's sister's family can now quickly cross the river from their home in Burnsville to come celebrate holidays and birthdays, and, at the dedication, all their children run about with big smiles and youthful excitement. They kick a soccer ball and talk about putting up a basketball hoop in the driveway. They look out for the littlest ones and laugh a lot.
Every home is unique, but the concept of home—that we all deserve a decent place—is universal. Good luck to Hassan and Asha as they continue, every day, turning their modest house into their perfect home.