Twin Cities Habitat for Humanity has expanded its homeownership program, with the goal of more than doubling the number of families that can purchase a home with an affordable Habitat mortgage* each year. There are now two ways income-qualified families can partner with us to become homeowners.
Buy a home constructed, remodeled, or renovated by Twin Cities Habitat, using an affordable Habitat mortgage.
Use an affordable Habitat mortgage to buy an existing home on the open market. These families will work with real estate agents to find their homes. Their mortgages can include home repair loans too. We partner with homebuyers to complete repairs before families move in.
Both homebuying options require families to complete financial coaching, sweat equity through homeownership trainings, and the approval process for obtaining a Habitat mortgage.
"We're excited to be able to offer families more choice in what kind of homes they buy," says Sue Haigh, President and CEO of Twin Cities Habitat. "We still set up every family for success with quality homebuyer trainings and a monthly mortgage payment that will be affordable."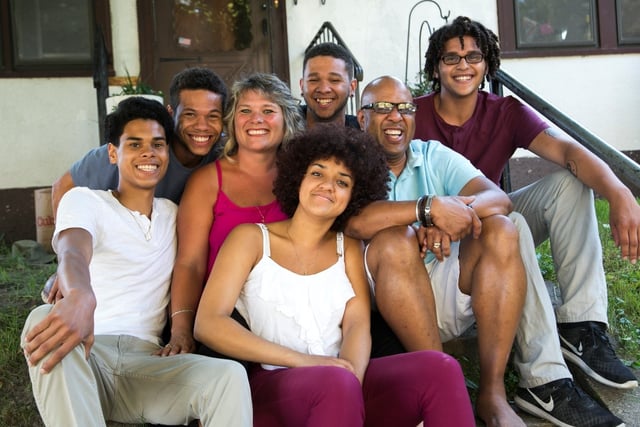 Juanita and Jacque bought a Twin Cities Habitat home in 1995.
"Once you're chosen by Habitat and you have a home it's like these doors open up for you," says Juanita. "You know you have a safe place to raise your babies."
Habitat mortgages have a fixed interest rate for the full term of the loan. Our maximum debt-to-income ratio of 30% of gross income ensures that the mortgage will be affordable and sets our families up for financial success. Twin Cities Habitat offers homebuyers a non-interest-bearing second mortgage as an additional tool for affordability.
A family's monthly housing payment includes: principal, interest, property tax, insurance, a maintenance fund, and homeowner association fees (when applicable). Families that buy a home with us do not have to pay private mortgage insurance (PMI), saving them thousands of dollars over the life of their mortgage.
Along with receiving mortgages designed for affordability, families who partner with us are eligible for additional small subsidies that help cover the upfront expenses of buying a home, like closing costs.
Completing financial coaching
There are two ways to get started in the process of buying a home with Twin Cities Habitat. The quickest is to go through one of our referral partner organizations. Each of these organizations offers individualized financial coaching free of charge (some organizations do require a small application fee). Financial coaching covers topics like improving credit scores, creating a family budget, and understanding financial documents.
When a family is ready to apply for a mortgage, they can be referred to Habitat to see which homebuying options they may qualify for and suit their needs.
Families can also start the homebuying process by attending an orientation session with Twin Cities Habitat. After the session, families submit an application and income documents to determine eligibility for free financial coaching with us. Because of the large number of families interested in buying a Twin Cities Habitat home, the wait to do financial coaching through us can be significantly longer than with one of our referral partner organizations.
We offer favorable credit requirements, with lower minimum credit scores than many other products. Additionally, families will have guidance with our one-on-one coaching to help improve their scores, establish credit scores, or demonstrate creditworthiness through non-traditional means.
Choosing a home
Once a family meets the qualifications for a Habitat mortgage, they can begin the process of selecting a home. Our program offers two routes to homeownership: purchasing a Habitat-developed home or finding a home on the open market. Financial coaches will work with families to help determine which option they can pursue.
Families who choose to buy a home constructed, remodeled, or renovated by Twin Cities Habitat will review available properties they are qualified to buy. Once a family is matched to a home, they can begin their homeownership trainings.
Families buying Habitat houses are required to complete 250 hours of sweat equity. Sweat equity hours can be earned by building on a Habitat home or volunteering at one of our ReStores. Sweat equity is a good way for first-time homebuyers to learn how homes are built and how repairs can be made. Families complete all of their required trainings and their sweat equity hours before applying for their Habitat mortgage. Families must maintain financial readiness for a mortgage throughout this entire process.
Families qualified to buy a home on the open market using a Habitat mortgage complete sweat equity through homebuyer trainings before they begin working with a real estate agent and looking at properties. We keep a list of real estate agents who are familiar with our program, however, a family can choose any real estate agent they would like to work with.
Completing homeownership trainings
The number of homeownership trainings and sweat equity hours required depends on how a family is buying a home with us, and how much of a subsidy they are receiving.
The trainings required of everyone include topics such as neighbors and community, planning home repairs, emergencies and warranties, landscaping and lawn care, mortgages, and homeowner's insurance. Families buying a home that is in a homeowner association must also complete a training about how homeowner associations work.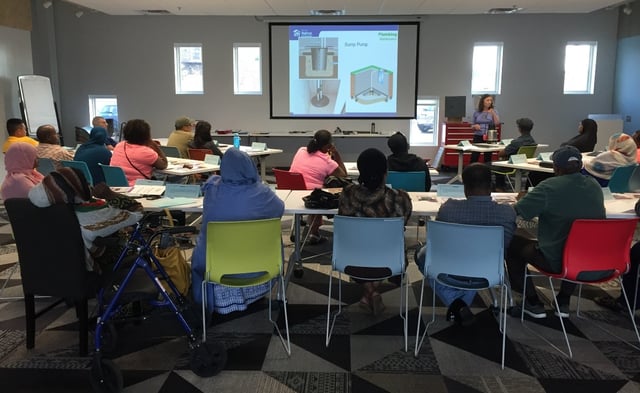 Habitat homeowner trainings cover important topics that every first-time homeowner needs to know.
Families using a Habitat mortgage to buy a home on the open market participate in trainings to learn how to work with a real estate agent and how to use the home repair loan and complete repairs with Habitat.
Local real estate agents Charlie and Joe Braman helped us create the curriculum for these two trainings.
"Our partnership with Twin Cities Habitat for Humanity has been an incredible opportunity to pursue our shared goal of creating greater access to safe, affordable housing in the Twin Cities," says Charlie Braman.
Completing the home purchase
The final step in the process is re-verifying all the numbers: the household income, the value of the home, the affordability of the mortgage. Once this is all done, a family will sign the paperwork at their closing, and get the keys to their new home.
Partnering with Habitat
Buying a home is a huge life event, and one of the biggest financial decisions that many families make. For first-time homebuyers it can be a confusing and intimidating process. We can help you. We believe every buyer deserves to have a partner who is looking out for their best interests. We will be there with you every step of the way.
Even if you're unsure about homeownership, it is worth connecting with us to receive free financial coaching. You can set individualized goals and learn financial skills which you can apply to your life every day.
Going through the homebuying process is an investment in your future and can be a pathway toward achieving many other goals in your life. If you think your family is ready for the responsibilities and benefits that come with homeownership, we want to be your partner.
*Twin Cities Habitat for Humanity mortgage programs are offered through our wholly-owned subsidiary TCHFH Lending, Inc.