As an organization dedicated to building and preserving affordable homeownership in the Twin Cities, Habitat for Humanity is no stranger to the wide variety of repair needs that local homeowners face. Through Habitat's A Brush With Kindness (ABWK) program, Twin Cities Habitat is able to provide assistance with a wide scope of needed home repairs for community residents that are unable to perform the work themselves, due to financial, physical or other limitations.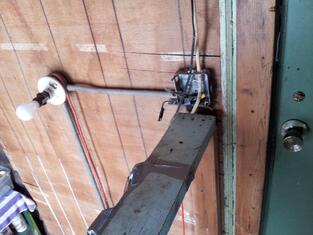 One project that helps to illustrate the scope of work performed by ABWK staff and volunteers was performed for a local veteran family in St. Paul. Nancy is a widowed senior citizen who has been living in her home since 1964, and her disabled adult son Stephen, a veteran of the U.S. Army, also lives with her. The repairs needed for the 100-year-old home began to pile up over time, and soon became too much for Nancy and Stephen to keep up with physically or financially. That's where Stephen's sister, Rosanne, came in, and contacted Twin Cities Habitat' A Brush With Kindness program on behalf of the family.
During the original home assessment, Senior ABWK Project Manager Mike Robertson identified major issues with the home's electrical system. Mike worked with Paul Archambault of Stinson Electric to assess the project.
"Nancy and Stephen's home was an example of a great need that was identified by the staff," Paul said. "When I first toured the home I realized that the faulty wiring presented a very real life safety risk to the family. This project was a bit larger than our normal recurring commitment to Habitat. Working with Mike, we found a way to get the project done with our donated labor and material and a financial participation by Habitat."
"Paul immediately recognized the hazard and offered to completely rewire the house and install a new circuit breaker panel," Mike said. "He generously donated a huge amount of labor and materials to this project!"
Due to the extensive work needed to complete the electrical repairs, the family was asked to move out of their home for a period of two weeks. ABWK provided a 22ft. storage container for the family to store their furniture and belongings, and they stayed with family members for the duration of the project.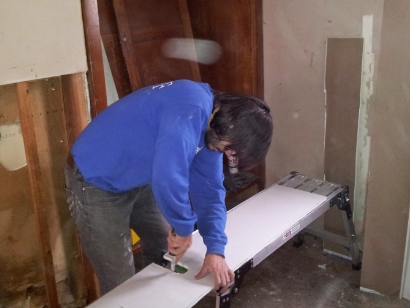 In addition to the electrical work, the ABWK team also took on the task of creating a decent bedroom space on the main floor of the house to accommodate the needs of the family. While the electrical team worked on rewiring the house, ABWK staff and volunteers tackled the bedroom makeover. A new drywall ceiling was installed, a door was added, and missing baseboard was replaced, along with window and door casings. The team also restored an existing oak built-in wardrobe to provide closet space. Staff and volunteers also helped to patch plaster and drywall from the electrical modifications and assisted with priming and painting tasks.
During a post-project visit with the family just before Christmas, Mike was thrilled to see that Stephen had already put the new bedroom to use.
"The love and support that this family has for one another was inspirational throughout the project. When I visited them in December, they had decorated for Christmas, and they seemed genuinely happy to be back in their home."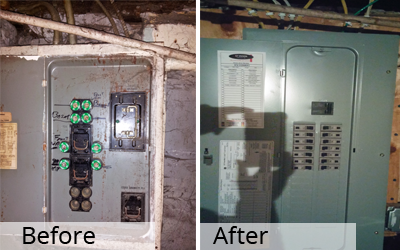 Large and complex projects like this home in St. Paul require a range of resources above and beyond what can be covered with the traditional A Brush With Kindness program budget. For this homeowner, grant funding was provided through The Home Depot Foundation, who recently awarded $200,000 to Twin Cities Habitat for work targeting Twin Cities Veterans in need of some help. This project also received a large in-kind donation of labor and materials from Stinson Electric, totaling $3,600. Labor was also provided with help from the ABWK Regular crew, ABWK staff, and family members.
"The experience of working on this home was quite an eye opener for several of our electricians who live a comfortable suburban lifestyle," Paul shared. "We are grateful to the staff at Habitat for the work that they do for local homeowners in need, and for including us in this project. We as a company feel very fortunate to have special technical skills and opportunities to use our skills serving for profit businesses in our community. We feel that we also have an obligation to give back to the community and believe that partnering with Habitat allows us to use our gifts to help people in need who have been pre-qualified and selected by the Habitat staff."
It is through the combined efforts and generosity of Habitat for Humanity staff, volunteers, donors, local companies and community organizations that Twin Cities is able to build or rehab 55 homes each year, and repair an additional 125 homes for local families.
Read more about Twin Cities Habitat's Veterans Initiative, and how you can donate labor or materials to support Habitat's work.