Guest blog by Jessa Anderson-Reitz
Twin Cities Habitat Staff Member
Thrivent Builds with Twin Cities Habitat for Humanity began in 2005, with the mission of providing affordable housing to families. This partnership engages Thrivent members and volunteers to make a difference in their community and engages families to build on the cornerstone of financial security through affordable homeownership. Together, Thrivent and Habitat for Humanity have partnered in neighborhoods throughout the US and across the globe to make a real difference for families and individuals.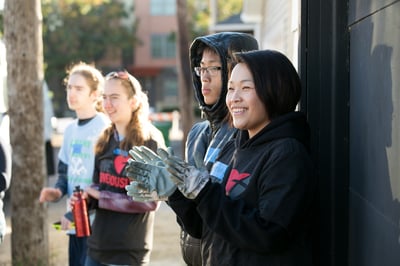 In 2016, Thrivent's members and congregation partners will be building nine more Habitat homes in the Twin Cities (six of the current builds are photographed below). This will bring the number of homes built in the Thrivent Builds-Twin Cities Habitat partnership to 80!
So far this year, volunteers have dedicated more than 10,000 hours to building these nine new homes. Thank you to all those who have joined us on site to continue this wonderful partnership!
Two additional ways Thrivent encourages its members to be generous:
Action Teams
Teams receive $250 grants to bring Thrivent's mission to life by doing projects that benefit our community.
Thrivent Choice Dollars
Eligible members can direct Choice Dollars to support a participating organization—like Twin Cities Habitat!
| | | |
| --- | --- | --- |
| | | |
| Thrivent Builds home in St. Paul | Thrivent Builds home in St. Paul | Thrivent Builds home in St. Paul |
| | | |
| Thrivent Builds home in St. Paul | Thrivent Builds home in Blaine | Thrivent Builds home in South St. Paul |