The Golden Rule is a universal concept, that defies race, religion and time. From the Prophet Muhammad to Hillel and the Bible, the concept of treating others the way you want to be treated is something we should all strive to attain. While Habitat for Humanity is rooted in the Christian tradition, we do our work in partnership with people of all faiths. Faith in Action has been a value of Twin Cities Habitat for Humanity since its founding.
In October, 21 faith leaders from across the Twin Cities came together to do just that, put their faith into action. At the 2nd Annual Senior Pastor Build, not only did they hang drywall together, they created fellowship and interfaith dialogue about issues facing low-income families across the metro.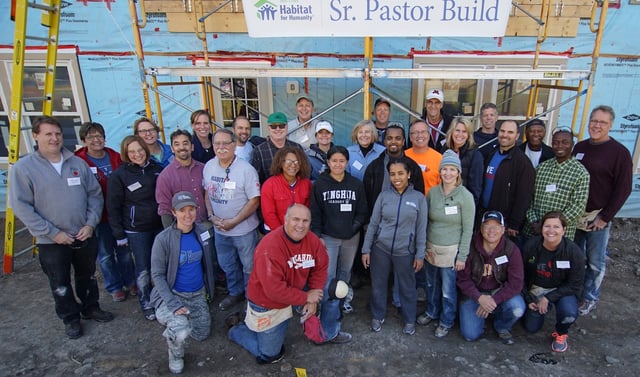 The day of building started with prayer and liturgical composer, Marty Haugen, leading the volunteers in singing his song "All Are Welcome." The first lines of which says, "Let us build a house where love can dwell and all can safely live, a place where saints and children tell how hearts learn to forgive. Built of hopes and dreams and visions, rock of faith and vault of grace." Marty was "glad that the song fits with what Habitat is all about." The song was the perfect way to get the faith leaders motivated and inspired to work on the 5-plex of townhomes in Heritage Park.
Beth Horsch, Senior Pastor at Mount Olivet of Plymouth and one of the Co-Chairs of this year's Senior Pastor Build was nervous about her first Habitat build. "I experienced firsthand what I believe to be true—you do not have to have something figured out in order to do it. So there I was surrounded by sheetrock, T-squares, measuring tapes and people I did not know and we all just jumped in. There are no uncomfortable pauses in conversation when there is a task at hand and I was overwhelmed by the sense of collaboration, patience and sheer pleasure in seeing the room come together, piece by piece. "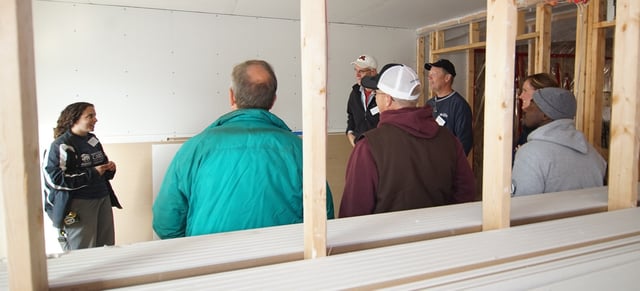 Twin Cities Habitat has volunteers every day of varying skill levels build alongside staff and homebuyers. These volunteers give over 30,000 days of their time every year and are integral to Twin Cities Habitat's goal of partnering with low-income families to become homeowners. Families like, Eshetu and his family. He built alongside the faith leaders and is buying a home for his mother and brothers.
Senior Pastor Build in its second year, is the product of the partnership between Twin Cities Habitat and Thrivent Financial. Thrivent is the #1 sponsor of not only Twin Cities Habitat but also Habitat for Humanity International. With programs like Thrivent Builds, Thrivent Builds Repairs and Thrivent Builds Worldwide, Thrivent sponsored 9 homes in the Twin Cities this year as well as countless repair projects through A Brush with Kindness and the Neighborhood Revitalization program. Thrivent also encourages members to put their faith into action and live generously by targeting Thrivent Choice Dollars to organizations like Twin Cities Habitat and organizing Action Teams to create fundraiser and community projects.
Faith partnerships are crucial to the mission of Habitat for Humanity. Without the financial and volunteer support of over 150 faith communities, Habitat couldn't build nearly as many homes. Twin Cities Habitat is always looking for more individuals and groups that want to put their faith into action. If you are interested, contact Jackie Arnason.
Contributed by Jackie Arnason, Faith Relations Senior Associate at Twin Cities Habitat