Faith is a powerful force. But a great challenge of our fast-paced, modern life is living our faith on a daily basis. It's easy to get overwhelmed and accept a feeling of complete helplessness against the wrongs and sins we see all around us.
These days it's important to have strong leaders we can look to, listen to, and learn from as examples of people putting faith into action. And, just as importantly, getting results from the work.
Faith in action has been a core value at Twin Cities Habitat since its founding in a Minneapolis church basement in 1985. The latest example of it on display was during the first annual Senior Pastor Build in Cottage Grove in October (news article on this special build).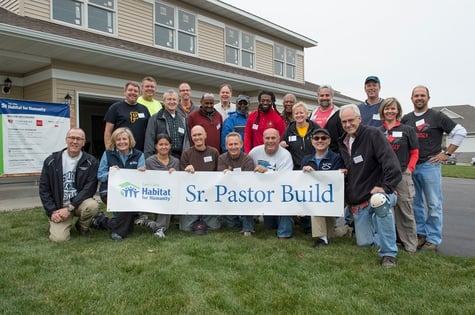 Leaders from nearly two dozen Twin Cities congregations came together for a day of volunteer construction and fellowship. There were lots of laughs, jokes about church leaders on their knees, smiles, and thoughtful conversations as the group helped paint, lay laminate flooring, and haul landscaping mulch.

Bob Merritt, Senior Pastor at Eagle Brook Church and one of the co-chairs for the first Senior Pastor Build, says that while driving to the construction site that morning he prayed to experience God's love as he worked that day. He says his prayers were answered. The men and women who gathered for the Senior Pastor Build exemplified Habitat's mission as they worked side-by-side with a Habitat homebuyer who was putting in sweat equity hours as a volunteer on the home he is preparing to buy (see the pictures of all these nice people working).
Twin Cities Habitat is fortunate to receive financial and volunteer support from more than 150 congregations and faith communities, some of which have been partnering with us for more than 20 years. But up until now, there hasn't been a single day of building that brought so many faith leaders together.
The idea for a Senior Pastors Build grew out of conversations with Brad Hewitt, CEO at Thrivent Financial. Thrivent is the #1 all-time sponsor of Twin Cities Habitat homes and Brad is personally very involved with Habitat, including serving on the Board of Directors for Habitat for Humanity International. The problem was that each year Brad had a scheduling conflict with a separate board of directors he serves on that prevented him from attending Twin Cities Habitat's annual CEO Build in early October. So Brad thought it would be great to offer a similar volunteer opportunity to the Twin Cities' top faith leaders.
Brad agreed to co-chair the first Senior Pastors Build along with Bill Bohline, Lead Pastor at Hosanna!; Reverend Dr. Will Healy, Pastor at Park Avenue United Methodist Church; Bob Merritt; and Reverend Dr. James C. Thomas, Pastor at Mount Olivet Baptist Church.
Dr. Healy joked about how his father had always given him tools in an attempt to make him "handy," but with limited success. However, Dr. Healy said he felt fully at ease volunteering with Habitat. Twin Cities Habitat Site Supervisors and AmeriCorps Volunteer Coordinators are all wonderful at making sure volunteers are safe on site, comfortable with the tasks assigned to them, and enjoy their Habitat experience.
While speaking at lunch, Brad said he hopes the Senior Pastor Build grows in the future and brings more people together each year. Thrivent is a not-for-profit membership organization that offers people financial services rooted in Christian values. It is trying to encourage its members to think differently about money – to see it as a tool for good, rather than a goal to be pursued without thought. Thrivent is encouraging its members to live generously by supporting community Action Teams around the country. Any Thrivent member can organize an Action Team to carry out a community-impact project. The Action Teams are given $250 in seed money from Thrivent to buy supplies and t-shirts to wear during their work.
It's that kind of grassroots, results-driven thinking that has been at the heart of Habitat's partnerships with communities of faith over the past three decades – and will continue to be for decades to come.
Bill Bohline, who founded Hosanna! and grew it into one of the largest congregations in Minnesota, is now retiring. A few weeks after the Senior Pastors Build he spoke to his congregation and told this story about putting his faith into action through Habitat:
"Most of the day, we are down on our knees working hard, the owner of the home was right next to me. They don't give these homes away. They know who is going to own them, and they pay an amount, and have sweat equity. And this thought occurred to me with him right there next to me: The owner is watching. I want to do my very best work on HIS house. And we did. Do you hear me dear friends? The owner is watching." -Bill Bohline (center of image below)


Twin Cities Habitat is always looking for more people and groups that want to put their faith into action. If you are interested, please join us.