In the last few weeks, Thrivent Financial has joined Twin Cities Habitat for Humanity to dedicate three of the four homes that the company has sponsored this year in the metro area. These home dedications gave us an opportunity to celebrate our homebuyers' achievements and recognize the incredibly valuable partnership through Thrivent Builds with Habitat for Humanity.
Since the inception of the Thrivent Builds partnership in 2005, Thrivent Financial has committed over $200 million and 4 million volunteer hours to Habitat affiliates around the world. Twin Cities Habitat has been fortunate to partner with Thrivent Builds, which has sponsored and constructed nearly 100 homes in the Twin Cities metro area.
The home dedications took place at each of the new houses and brought together volunteers, Habitat supporters, and friends of the homebuyers. On November 22, we welcomed Amina Hiliye and Said Farah to their Coon Rapids home and celebrated their hard work throughout Habitat's homeownership program.
A few weeks ago, we celebrated with Hassan Helgol, Deko Siad, and their seven children at their new home in St. Paul. Nikki Sorum, Divisional Vice President of Thrivent Financial and a TCHFH Board Member, congratulated the family and presented them with a framed Golden Rule—a gift representing Habitat's commitment to faith in action and interfaith collaboration.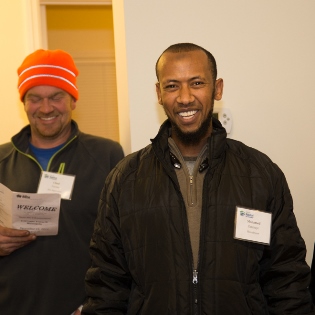 Last Thursday, we gathered at the new home of Fatuma Wako and Mohamed Omisaye in North Minneapolis. The family was warmly welcomed to the neighborhood by Cathy Spann of the Jordan Area Community Council who expressed her enthusiasm for Habitat's work in her community through the Neighborhood Revitalization Initiative. Jeff Meacham, Community Engagement Leader for Thrivent, spoke about how love drives his company's work. He shared that he could witness tremendous love and support by looking around the room and recognizing all those who played a role in building this home. Mohamed and Fatuma expressed their gratitude for Habitat sponsors and volunteers and for Chad Formo, the site supervisor, whose patience and enthusiasm made the home's construction possible.
Thrivent, a membership organization of Christians, gives back to the community in a variety of ways. Learn more at thrivent.com.
Want to see more photos from these home dedications? Check out our Flickr. Find more information about dedications and a schedule of upcoming events here.