On Saturday, November 22, Twin Cities Habitat for Humanity celebrated with homebuyers, sponsors, and community members the dedication of two new homes. The crowd of nearly forty people gathered at the new home of Amina Hiliye, Said Farah, and their five children in Coon Rapids. The Brooklyn Park home of Sadia Hashi and her four children was also dedicated during the ceremony.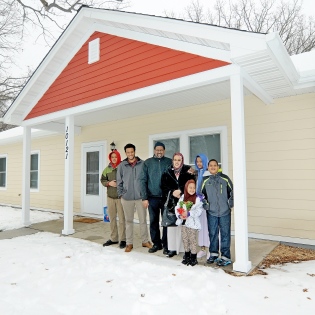 Both families had an opportunity to share the story of their journeys to homeownership and express appreciation for Habitat and its supporters. Amina and Said's 18-year-old son, Ahmed, spoke enthusiastically on behalf of his family. He explained that in 1998 his mother moved to the United States from Somalia, leaving her husband and toddler behind for two years. She worked two jobs to save enough money to bring Ahmed and Said to the U.S. in 2000. Since then, they have had four more children and have outgrown their current home. The family looks forward to building relationships with their new neighbors, maintaining their own house, and having enough room to play and grow.
Sadia, who will close on her house in Brooklyn Park this week, spoke about her immense gratitude for the site supervisors, Lynda Bouley and Bryn Chambers, for the work of the many volunteers, and the support of Habitat sponsors. She explained that building her home was an emotional experience, but is excited to now have stable and safe housing for her children. After moving in, Sadia plans to finish her education and start her own business. Bryn returned Sadia's appreciation, thanking her for the hard work on her home, which the first house that Bryn finished with Twin Cities Habitat.
Representatives from sponsoring organizations also had a chance to congratulate the two families and recognize their commitment. Martin Wera represented Ameriprise Financial, the Sustaining Sponsor for the Brooklyn Park house, thanking his organization's volunteers and welcoming Sadia to her home. Thrivent Financial was the Major Sponsor for the house in Coon Rapids, which was the second of four homes that the company sponsored this year in the metro area. Julie Holmquist explained that the Thrivent Builds partnership with Habitat is one of many ways that the company empowers its members to live generous lives.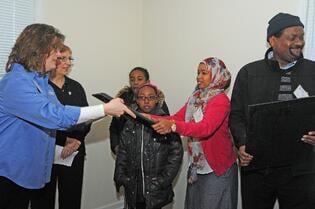 Stephanie Nelson represented Twin Cities Habitat in thanking the volunteers and sponsors and welcoming the families to their new homes. She presented each family with a framed Golden Rule representing the common beliefs held by a variety of faith traditions. The families are encouraged to display the frames in their homes as a reminder of their partnerships with Habitat, the work they have done, and the support of the community.
Twin Cities Habitat congratulates these two families for their commitment and perseverance and appreciates their partnership with our organization!
See more photos from this dedication here.
To learn more about home dedications at Twin Cities Habitat for Humanity, click here.