Tom Staffa stood with his wife Kathy in the early morning sunshine gazing at the new home of Nuruddin Isse and Dekha Abdulle. The dedication for this house was special for Tom in more than one way. He was a volunteer at the site several times and Tom also grew up in the house that stood in this exact location previously.

A crowd gathered Saturday morning to celebrate the new homes of Genet Hailu & Getnet Yohanes and Nuruddin Isse & Dekha Abdulle. It was a beautiful morning full of smiles and handshakes as old friends mixed with new acquaintances.

Dedications Committee member, Nicole Smiley welcomed the families, sponsors, donors, supporters, Twin Cities Habitat for Humanity staff and volunteers. Anita Cummings, Reverend at Presbyterian Church of the Way, expressed gratitude for the commitment of all present in her opening prayer.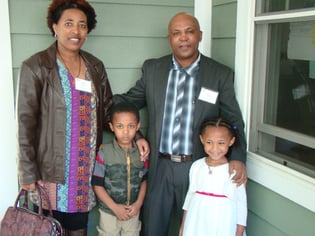 Both Nuruddin and Getnet spoke about the uncertainty they felt when they arrived in the United States. Nuruddin is originally from Somalia and Getnet from Ethiopia. "I had the American dream, I wanted to own a house and have my children graduate from university. It was very hard when I came. Our futures are brighter now," Nuruddin said.
He shared how much he learned throughout the process of working with Twin Cities Habitat for Humanity. All Habitat homebuyer families are required to put in 300-500 hours of sweat equity and complete homeownership training courses on finances and maintenance. About building on site he said "I arrived here and it was all wood and wires. Bryn (Habitat site supervisor) told me to put this here and I didn't know (if that was right) ... but it worked."
Both families thanked the volunteers for their hard work. Nuruddin shared how inspired he was by an older volunteer that could no longer walk but continued to show up at the build site and help where he could. Nuruddin concluded by saying how important it is now for his family to find ways to give back to the community.
This build was a special one for site supervisor Bryn Chambers. "This was the first house I built on my own as a new site supervisor at Twin Cities Habitat for Humanity." He thanked the families for their dedication to the build, saying that they were out on site as often as 2-3 times a week, finishing their sweat equity very quickly.
Working with the families as they build their homes is a significant part of Habitat builds. Byrn said he was able to bond with the family while building and has now decided to stay in contact with them as their Neighborhood Family Partner.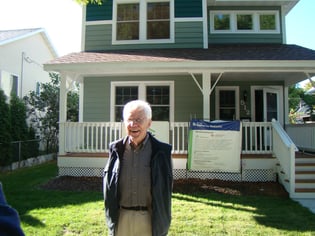 Tom Staffa, a volunteer with Holy Hammers and a past resident of the new home's lot, shared some memories of growing up in the neighborhood. "I lived here from when I started 1st grade at St. Agnes to when I went into Military Service at age 21. While I was here volunteering I could hear the bells of St. Agnes and see the Nickel Joint across the alley and it brought me back."
Jack Griffin from Centennial United Methodist Congregation spoke on behalf of major sponsor Holy Hammers. "This year marks the 20th house we've built with Twin Cities Habitat for Humanity." Working on build sites reminds Jack of the power behind these projects. "We celebrated the 90th birthday of long-term volunteer, Tom Eckart on site this year. Seeing him here reminds me that everyone can do this work. And everything is learnable and teachable. I learn something new (on site) every year."
Thrivent Financial Manager of Community Engagement, Mikeya Griffin shared how grateful she is to be part of the work. "This is a manifestation of Thrivent's mission, to Live Generously, for all 200 members of Thrivent and all the employees to get to do work like this every day." She also joked about her own in-experience, "thank you for letting me use a hammer ...and power tools. I immediately ran home and told my husband that I can finish our basement!"
Twin Cities Habitat for Humanity President & CEO Susan Haigh led the Dedication Litany which includes the phrase "in partnership we have found the strength to build homes and transform lives." As Sue pointed out, this is incredibly true of our partnership with Holy Hammers and Thrivent. "They are two of our best long-standing sponsors and we are grateful for their generous support in allowing us to continue to do what we are called to do to reflect the love we feel."
Special thanks to our Community Partners that worked on these two homes: U.S. Department of Housing & Urban Development; City of St. Paul Housing & Redevelopment Authority; Twin Cities Community Land Bank; and AmeriCorps.
For more pictures from this dedication, click here.