Saturday's clear sky and warm weather provided a perfect setting for a home dedication in Crystal. Tesfay Araya, Mekdes Nugusie, and their three children were welcomed into their new home by many neighbors, friends, volunteers, sponsors, and Twin Cities Habitat for Humanity staff. Nearly 65 people gathered on the front lawn of the new house to celebrate this joyous occasion.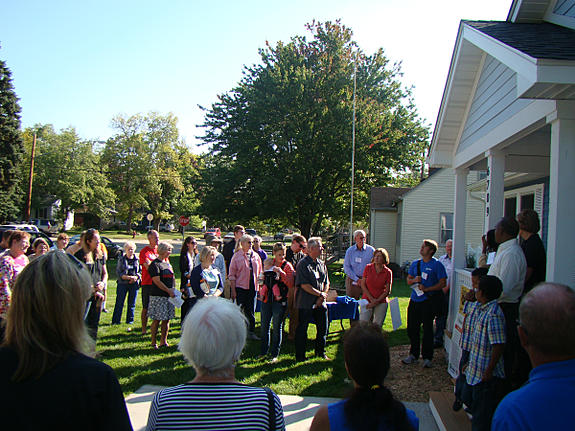 The Family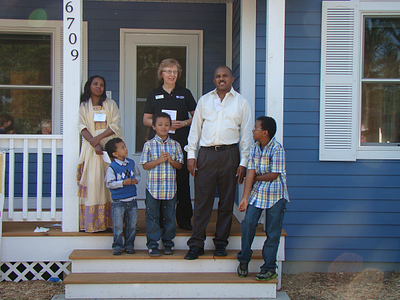 Originally from Eritrea, Tesfay moved to the United States in 1992, Mekdes in 2001, and their cousin, Solomon, in 2012. Tesfay and Mekdes's three sons, Musie, Matthew, and Nathan, were all born in the U.S.
At the dedication, the family members expressed their gratitude for those involved and share hopes for their lives in the new home. Mekdes spoke abo
ut the hardships of her family's previous apartment and the stabilizing opportunity to move into a safe house. "We can live with freedom if we own our house. We are one voice [as a family]; we are always together. Having our own home will change our family dramatically; our children will have the freedom to play."
Tesfay echoed Mekdes' remarks and spoke fondly of his time working alongside volunteers and the site supervisor, Skip Schmall. Each of the boys also had a chance to thank the volunteers and sponsors and show excitement for the new home.

The Dedication
In addition to providing a space for the family to celebrate their home, dedications are designed to give volunteers, sponsors, and Twin Cities Habitat staff a chance to express their warm wishes for the homebuyers. Pastor Beth Horsch from Mount Olivet Lutheran Church of Plymouth provided the opening prayer.
Site supervisor Skip Schmall reminisced about his time working on the home and spoke highly of the family's commitment, perseverance, and optimism. Mary Schumacher, COO of Twin Cities Habitat for Humanity, thanked the family for partnering with Habitat and acknowledged the compassionate work of sponsors and volunteers.
Nikki Sorum, Divisional Vice President of Thrivent Financial and a TCHFH Board Member, congratulated the family and presented them with a Bible, representing Habitat's core value of faith in action, and a framed Golden Rule, signifying the common belief held by many religious traditions. Nikki was joined by Sue Furry and Kramer Berg, also from Thrivent, in leading the crowd through a responsive litany to dedicate the home. Thrivent Financial, through Thrivent Builds with Habitat for Humanity, was the Major Sponsor of the home.
Other sponsors and donors also had an opportunity to speak about their organizations' commitment to Habitat through volunteering and sponsorship. We heard from: Larry Kloth of Bank of America, which donated the property; Mike Harding from Cisco Systems, Inc., the Partnering Sponsor; and Lynne Liebrenz of Optum Technology, a Contributing Sponsor.
Pastor Jason Wahlstrom of Holy Nativity Lutheran Church, a Supporting Sponsor, said the closing blessing.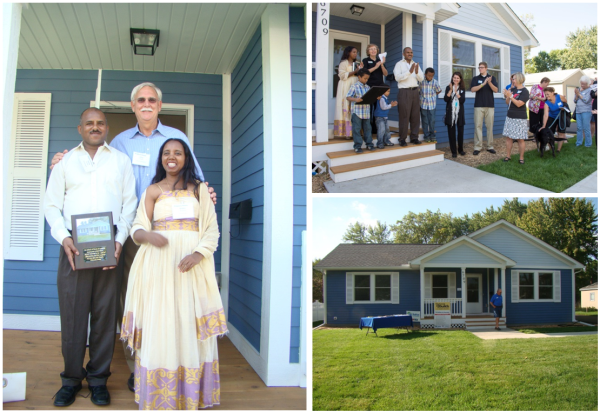 To see more photos from this dedication, click here!