"Today the first step of the dream has been accomplished." - Fuad Omar, homebuyer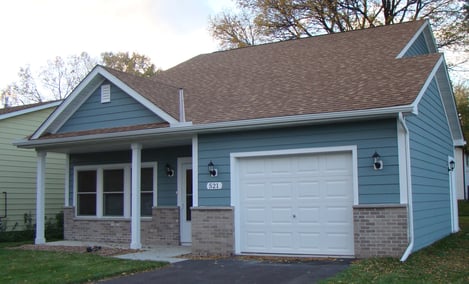 On October 15th, volunteers, sponsors, and staff gathered in Fridley to celebrate Fuad Omar and Senea Shato's new home. Fuad shared his gratitude for everyone who helped to make his family's home a reality. "I have no words to express these feelings," he said. "Thank you for your generosity of time."
Fuad and Senea moved from Ethiopia in the early 2000s. Owning a home has been a goal for years. "Today the first step of the dream has been accomplished." Fuad's next step is to finish school and eventually he and Senea hope to open their own business.
Site Supervisor, Craig Norton, thanked the volunteers who worked on the home, which included crews from sponsors Thrivent Financial, Dorsey & Whitney LLP, and Zion Lutheran Church.
Craig made special mention of the North West regular crew who helped to finish up the home. He acknowledged Greg Rouse, the AmeriCorps Member who worked with him last year, saying "I couldn't have done it without him."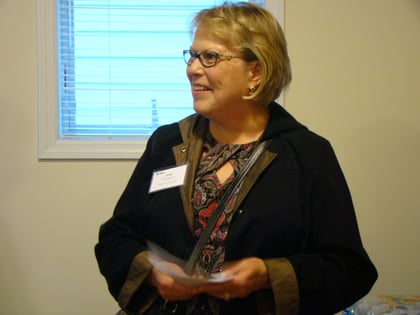 Thrivent's Julie Holmquist spoke about the long partnership between Thrivent Financial and Twin Cities Habitat for Humanity.
"We are proud to have been a major sponsor on this house. It's incredible to see the dedication from so many, from the very first nail to the very last nail."
Fridley Mayor Scott Lund and City Council member Ann Bolkcom welcomed the family to the neighborhood.
Scott made mention of another Twin Cities Habitat for Humanity home that is being built in Fridley. "They are both thoughtfully designed and really add to their neighborhoods. By all accounts, working with Habitat has been positive for the city."
Ann shared that the lot had been empty for many years and that it is very exciting for it to now have "a great, beautiful home!" "Thank you for being in our neighborhood. Enjoy the river!"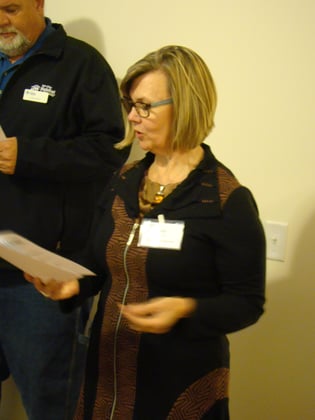 Alice Melton, Outreach Senior Associate in Family Services with Habitat, spoke about the work the family put into the home. She shared that even before all the paperwork had been finalized, Senea was out working at the ReStore, putting time towards the family's sweat equity.
Nikki Sorum, Twin Cities Habitat for Humanity Board Member presented Fuad and Senea with a framed Golden Rule and led the Dedication for the home.
She echoed her gratitude for the Thrivent-Habitat relationship, sharing that "Thrivent has eight homes (we are working) with Twin Cities Habitat on this year." As the Dedication Litany states: our partnerships give us the resources and the strength to build homes and transform lives.
There were many sponsors that made this home in Fridley possible. We thank Thrivent Financial, Bank of America, Ally, Breck School, Church of St. Timothy- Christ Lutheran Church Coalition, Dorsey & Whitney LLP, Zion Lutheran Church, EMC Squared Corporation, Christ the King Lutheran and our countless volunteers for all of their support and commitment that make building affordable housing possible!
Special thank you to the City of Fridley and Anoka County for their support.
For more pictures from this dedication, click here.