The last Saturday in February was filled with sunshine, smiles, and support as Terfa and Bontu celebrated their new home in Saint Paul! The living room filled quickly with family members, friends, volunteers, and sponsors eager to congratulate the new homeowners. Terfa and Bontu could not contain their kids' excitement as they ran around embracing the space they would soon call home.
In a blink of an eye- the kids were coloring, the food was placed, and the dedication began.
Susie DeShon, a Dedication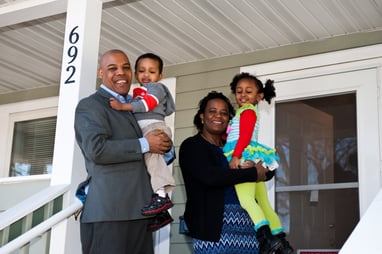 's Committee member, welcomed the crowd, "I get to be at many of these incredible events. We (all) come with the goodness of our hearts." Terfa and Bontu smiled at each other- it was clear they truly felt the goodness in everyone's heart.
Sue Haigh, President of Twin Cities Habitat for Humanity, was grateful to be a part of this day. She spoke on the importance of working together, "It's a place where everyone can roll up their sleeves and make the world a better place."
Through sweat equity hours and homeowner trainings, there is a lot for homebuyers to learn throughout their partnership with Habitat.
"I didn't know how to do anything" said Terfa on the process of building his new home. " I want to thank the staff and site supervisor and volunteers. Thank you so much, I'm happy. God bless you. It's my big day!"
Moving into the home will be a huge difference for this Twin Cities' family. Terfa and Bontu currently live in a one bedroom apartment with little room for their kids to ru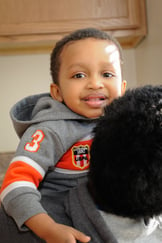 n. This new home will not only have more space, but is located right across the street from a park! Now the space to run is endless.
The building of Terfa's family's new home would not have been possible without support from the home's major sponsor, Thrivent Financial. Nikki Sorum, a Thrivent representative and Twin Citie Habitat board member, was thrilled for the new family. "When people come together and live generously, this is the kind of good that happens."
After the dedication, guests toured the home and ate the delicious food provided by Terfa and Bontu. It was a great way to start a Saturday morning and one that the family will remember.
We wish the very best for Terfa and Bontu as they start a new life in their home!