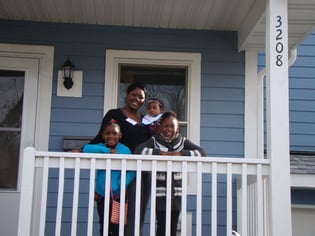 Months ago, in the middle of the building process DoShanley Nickerson, Twin Cities Habitat for Humanity homebuyer, shared her determination in creating a home for her family. "Once you put your all into the home, it's something you're going to fight to keep. I helped build this home. I've put too much into it to ever let it go."
At her home dedication, just before her family moved into their new home, she reflected on the whole experience. "This is the most trying thing I've ever done. It was so hard!" DoShanley said as she stood in the middle of her home and spoke openly about the challenge of balancing work and family while building her family's home. She addressed the packed room, thanking them for their support, hard-work and generosity.
"There were many days when I didn't want to go. I didn't want to see any more siding! On the hardest days it was watching the volunteers working so hard for my dream that kept me going. It is a blessing to have others willing to go home with their backs hurting... for you. I am so grateful and so blessed."
The partnership between Twin Cities Habitat homebuyers and volunteers is at the heart of the work Habitat for Humanity is able to do. A majority of this partnership takes place on building sites but not all of it. Deb & Wade Borg from Mount Olivet Lutheran Church presented DoShanley's family with a wooden storage box built by volunteers at a fundraising event that contributed funds to DoShanley's new home.
Other congregations created quilts for the family. Linda, from Valley of Peace compared quilting to building a community and connecting to others, "one person gives you the fabric and you have to find the right thread or pattern to put it all together." Dave, from Holy Nativity Lutheran joked "I know you have a brand new furnace but we want you all to stay warm this winter."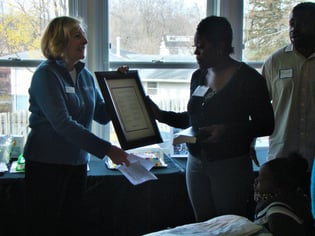 It is a tradition to present each Twin Cities Habitat homebuyer with a framed collection of Golden Rules from a variety of religions at their home dedication. While Habitat for Humanity is rooted in the Christian tradition, we work in partnership with families of all faiths. We present the Golden Rule in recognition of the religious diversity that exists in the world, and more importantly the values we all share.
Sue Haigh, CEO & President of Twin Cities Habitat for Humanity, spoke on the connection between Habitat and the community. "It is a very special thing to come together to believe in a community. Every hand, every smile, every individual makes homes, like this one, possible. We really can't thank you enough."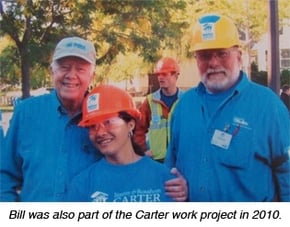 This Twin Cities Habitat for Humanity build was especially meaningful for many volunteers who said farewell to a dedicated, generous friend Bill Bergquist earlier this year. Bill was a dedicated advocate for Habitat and Thrivent Builds, coordinating the North West Minneapolis Thrivent Chapter volunteers on Twin Cities Habitat homes for many years.
On this home, his last project, he again organized congregations including Calvary Lutheran, First Lutheran Church of Crystal, Golden Valley Lutheran, Holy Nativity Lutheran, House of Hope Lutheran, Valley of Peace Lutheran and Thrivent Financial builders for the first four weeks of building.
Sue shared "Bill was a passionate believer in our mission and shared a positive vision of the future of our organization." Dawn Dresser, a member of Bill's home congregation, Calvary Lutheran, explained his trick to get volunteers. "Bill had an uncanny ability to get people involved. Sometimes he would just sign you up and e-mail it out. You would read it and go 'oh, okay I guess I'm doing that.'"
"He connected Calvary Lutheran to Habitat builds the last twenty years. He believed in Habitat's philosophy and was passionate about giving children a home. He knew that raising children in a stable location means they will go through life expecting to be in a home. We are so grateful for him."
Farewell Bill, thank you for the gifts you have given to our community.
View DoShanley's follow-up interview with Channel 12News here.
Click here for more pictures from this dedication.