On a beautiful fall Thursday night, Marian and Abdikani gathered with their family and a multitude of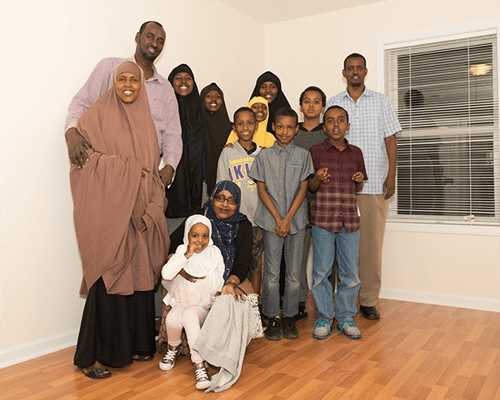 community members to dedicate their home in St. Paul.
The family of 10 presented bright smiles on their faces, as they walked through each room and reflected on their "dream come true."
"Our lives will change forever," Marian said. "Our kids will finally have a home, not just a room."
This St. Paul dedication was also special because it was a Women Build home. Through Women Build, volunteers build two Habitat homes a year. With 50 team leaders and 14 crew leaders, over 1,000 women have participated in Women Build.
Lori Dewey, Women Build Steering Committee Co-Chair, finds incredible value in working alongside the volunteers and families to build houses that will soon become homes and a safe haven for families. "Women Build is a very unique build. It is great to partner with families and be role models to their daughters," Lori said.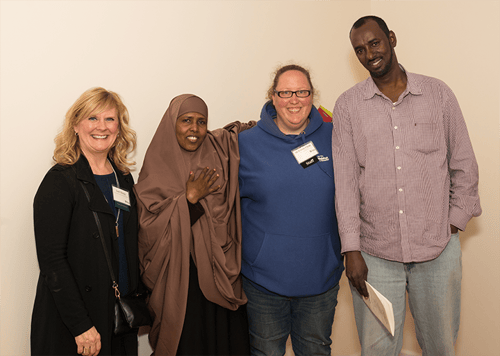 McKinsie, Site Supervisor for the Women Build project this year, shared how this build was one of the "coolest" builds she's done. One of her vivid memories from the build was being greeted by the young neighbor next door, who was so intrigued by the build, she was sure he would grow up to one day drive a forklift.
In addition to the welcoming neighbors, students from Wellstone Elementary led an energized countdown to raise the walls, and hard-working volunteers and sponsors put their love and labor into the home. For all those reasons and more, this was a Women Build that many people will always remember. "This was literally a community build," McKinsie said.
Thrivent Financial, who has built well over 2,000 homes in the United States, was a major sponsor for this build. Hugh J. Andersen Foundation and Wells Fargo were also major sponsors. Health Partners and Park Nicollet joined as a partnering sponsor; Breck School was a contributing sponsor.
After hearing everyone speak and reflecting on the journey that led to them becoming homeowners, Abdikani was at a loss for words. "I cannot even describe how I feel right now," Abdikani said. "But I know I speak for my family when I say we thank you, all of you in this room. You have given our family a gift. Because of you, we have a home for our family."
Sue Haigh, President and CEO of Twin Cities Habitat for Humanity, ended the celebratory night with gratitude for our supporters and a blessing for the family.
"We love each other. We care about each other. We want to build community and get things done. It's such a gift to see all of you and your spirit you bring. Thank you for supporting our mission."