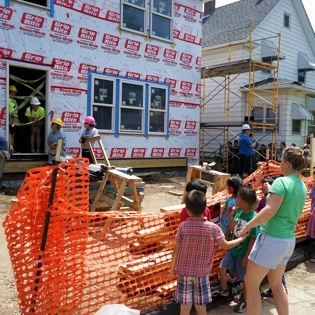 Thirty excited Pre-K students counted down. "Five, four, three, two, one!" When they reached "one" volunteers raised a wall on a Habitat home being built near Wellstone Elementary School in St. Paul. Once the wall was up, the kids danced in delight. The volunteers couldn't help but feel infected by the children's joy.
A couple of weeks before the wall-raising, Jean S., a Pre-K teacher at Wellstone, had noticed the signs announcing that a Habitat home was being built within steps of the school. Always eager to find new ways to keep her students interested, entertained, and learning, she asked McKinsie C., Habitat Site Supervisor, if she could bring her students by to watch the construction. McKinsie gladly said yes. Eventually, three classes, totaling about 60 kids, regularly visited the site.
"They are so fun to watch," McKinsie said. "They line up along the fence and ask a lot of questions." She laughs. "Sometimes they ask questions about the house, but they'll also say totally random things, like 'I like ice cream,' or 'I have a pet cat' or 'want to hear me sound like an elephant?'".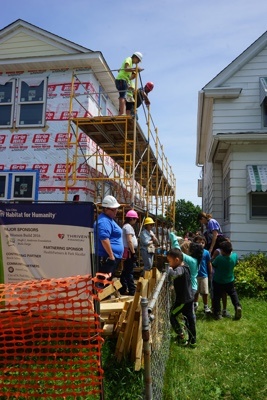 "The volunteers love it when the kids come by," she continued. "Not much work gets done when they're here because the volunteers come down and start talking with the kids. I don't know who's having more fun." After a moment, she adds, "I guess you can call it community building and neighborhood revitalization at the most grass roots level."
"I try to tie something we're learning in class to what we see here," teacher Jean says. "We've talked about about electricity and weather," she said. "When even talked about wind energy."
"One day the kids all came to the site carrying little pinwheels they had all made," McKinsie said. "Jean said it was a lesson about wind energy. Mostly, I think the kids just enjoyed showing off what they'd made."
By watching the progress of the construction the kids have been learning about what goes into building a house. Visiting once or twice per week has enabled them to see both the speed of progress, and a lot of the details. "They don't miss anything," Jean says. "I'm amazed at all the details they remember between visits."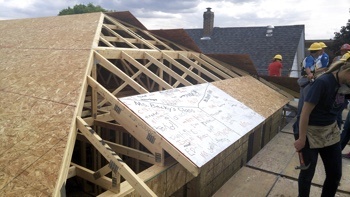 A few of weeks into their visits McKinsie suggested the kids write their names on a sheet of OSB that would be put on the roof of the house. McKinsie had volunteers paint a sheet white and placed it on the ground. With permanent markers provided, each of the kids wrote their "names." Once all the kids had put their marks on the board, volunteers hoisted the sheet and nailed it into place.
"Every time they visit, the kids point out where the board was placed," McKinsie said. "I think they really get that they are now permanently a part of the house, and part of the family who will be living here."
"They love coming down to the house and seeing McKinsie and Joe (McKinsie's Assistant Site Supervisor and AmeriCorps member)." Jean says. "I know they're all going to want to come down here to see how the house is doing after the return to school in the fall. And I wouldn't be surprised if some of them came by to watch a few times over the summer."
In class, inspired by what they were learning from the construction, many of the kids wrote a little piece on what home means to them. Here's a few samples of what they said:
"It's a place where we live. My other house is full of food and my dress and my mom's bed. I like to read books. We have books." - Sumayaa
"A house is a home. It's for keeping things safe so you don't sleep outside if it's a rainy day. I keep my cat safe." - Chante
"Home is with my Grandma and my mom and my sisters." - Azair
"My house is an apartment. My mom and dad and my mom baby and my sister and my brother and my big sister live far away from me with my Grandma." - Paw
"It's been a wonderful to connect with the kids," McKinsie says. "They're so much fun and bright and our volunteers have really enjoyed them. I'd be willing to bet that several of them end up volunteering on a Habitat build when they grow up."
Judging by the enthusiasm of the kids at the site, that should be a pretty safe bet.
To learn more about how you can get involved building or repairing a home, and maybe creating your own connections to neighborhood kids who come to watch, check out the link to the left.