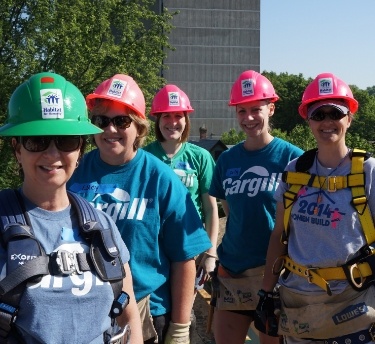 After retiring from an extremely rewarding career with the Air Force, CJ says she wanted to continue to "give back and be a part of something greater than myself", and Twin Cities Habitat for Humanity turned out to be a perfect fit.

"It's a great cause to dedicate my time and skills, knowing I'm helping others have the security and freedoms to reach their full potential,"CJ said. "Without a proper foundation and roots, nothing can flourish. Knowing I'm contributing to a family wanting to provide the opportunity for each of them to have a better quality of life; is all the motivation I need to keep going out to the site each time."

CJ experienced her first Women Build volunteer day in 2011, became a Crew Leader that same year, and joined the Women Build Steering Committee in 2012.

"I feel blessed to have the ability to continue to build each week, share my skills, learn new ones, and make lifelong friends -- all while serving the home owners and community as a whole. I love the camaraderie on site and getting to teach and encourage the volunteers to try something they may not otherwise have the opportunity to do. When they've done it and they get that huge grin of 'hey I did that'- that's what it's all about."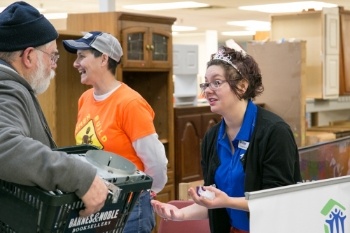 CJ volunteers on site two days a week, and enjoys being able to work as a team and build a home and future for a deserving family. She loves learning new things and feels that seeing the house from start to finish is incredibly rewarding. After the Women Build days are officially done, she continues volunteering on site year-round by helping with the inside finishing work, and gets to share her love of teaching and working with kids by volunteering to help at Youth Group Workshops. CJ also recently started helping out as a Direct Outreach Volunteer, representing Habitat at different tabling events and service fairs.
"CJ's broad understanding of Habitat throughout the years in different roles and the unique perspective this gives her makes her a perfect candidate for outreach," said Anne Meyers-Welsch, Volunteer Coordinator at Twin Cities Habitat.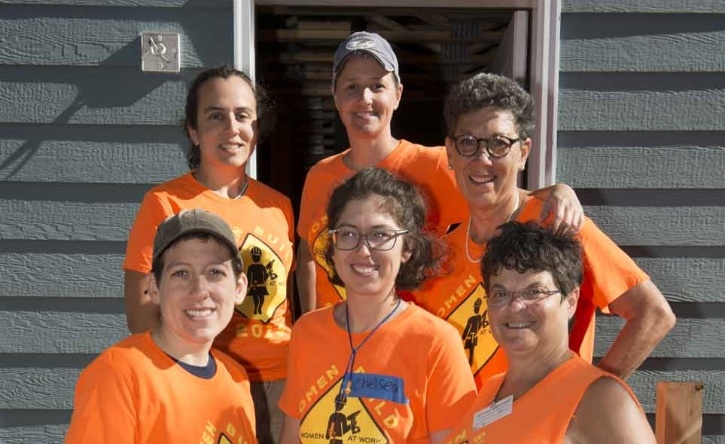 CJ also makes a point to attend Habitat home dedications, where her favorite thing is seeing the gratitude and joy on the owners faces, and the honor she feels to have shared in building their home and hope for their future.
"The desire and calling to share what God has blessed me with, motivates me to continue building, find new opportunities to give back, and reach others one smile at a time. It's innate and is what lead me to reach out to the MN Lynx for the A Brush with Kindness kick-off event back in 2013; as well as start the annual Women Build - Lynx Night. I'll continue to find new things and do my best to enhance the lives of all who are connected to Habitat."
Thank you, CJ, for your continued enthusiasm and commitment to Habitat's mission. Volunteers like you are what make our work possible!