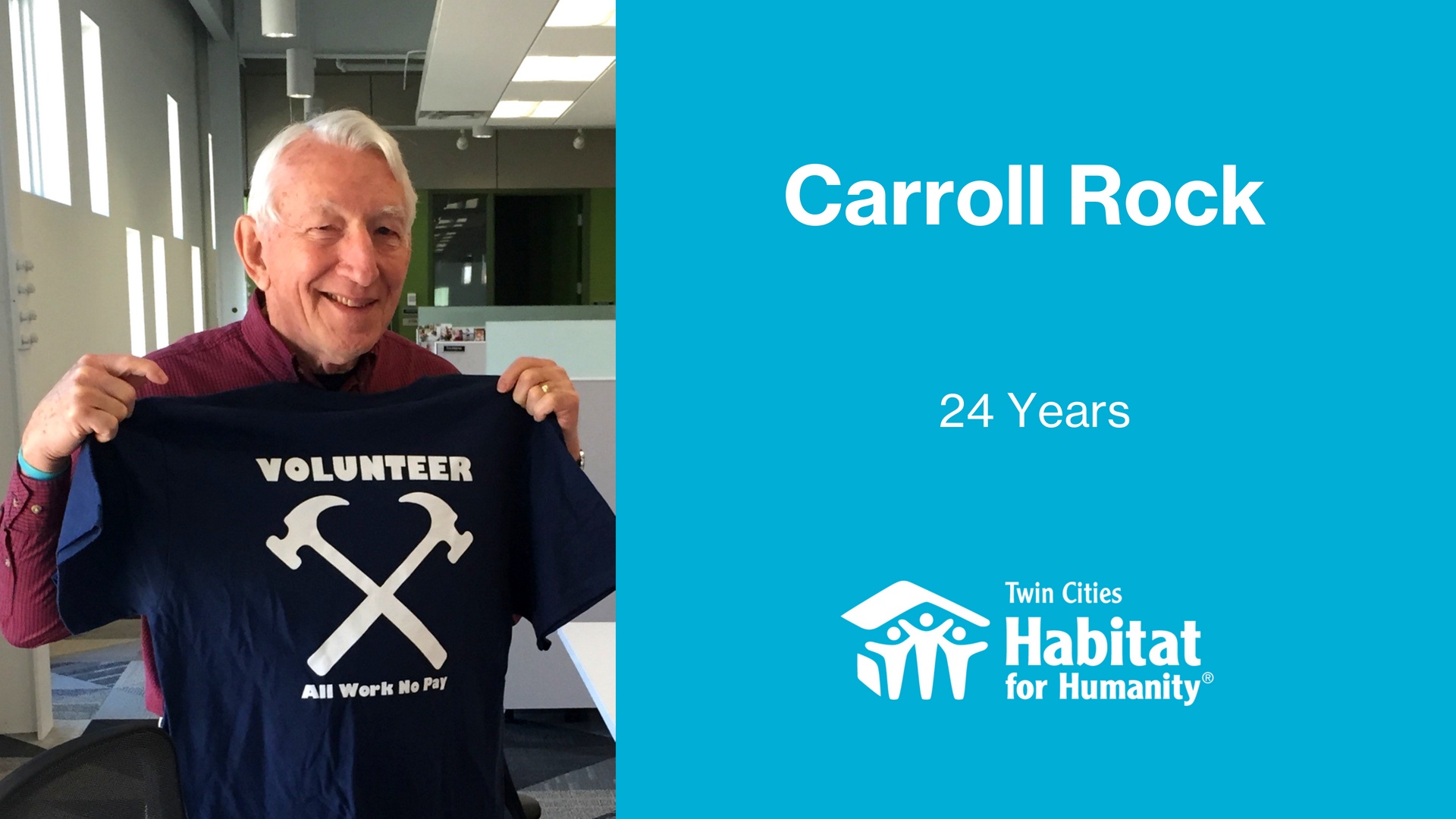 Carroll sporting his well-earned volunteer shirt
*photo by Sara Kettering
Most remember 1994 for things like Nelson Mandela, Kurt Cobain, or The Lion King - but to us 1994 means the beginning of our relationship with office volunteer Carroll Rock.
"Carroll is a wonderful man. Not only has he been volunteering his time with us for years, but he also makes the office a brighter place. He is always quick to make us laugh and his humor is contagious. Carroll is the best" says Bryn Ford-Jacoby, Resource Development Associate at Twin Cities Habitat.
Carroll comes in every Thursday to volunteer four hours of his time working on the database for Twin Cities Habitat. Staff shared that having Carroll's help on a regular basis is key to keeping our system clean and organized.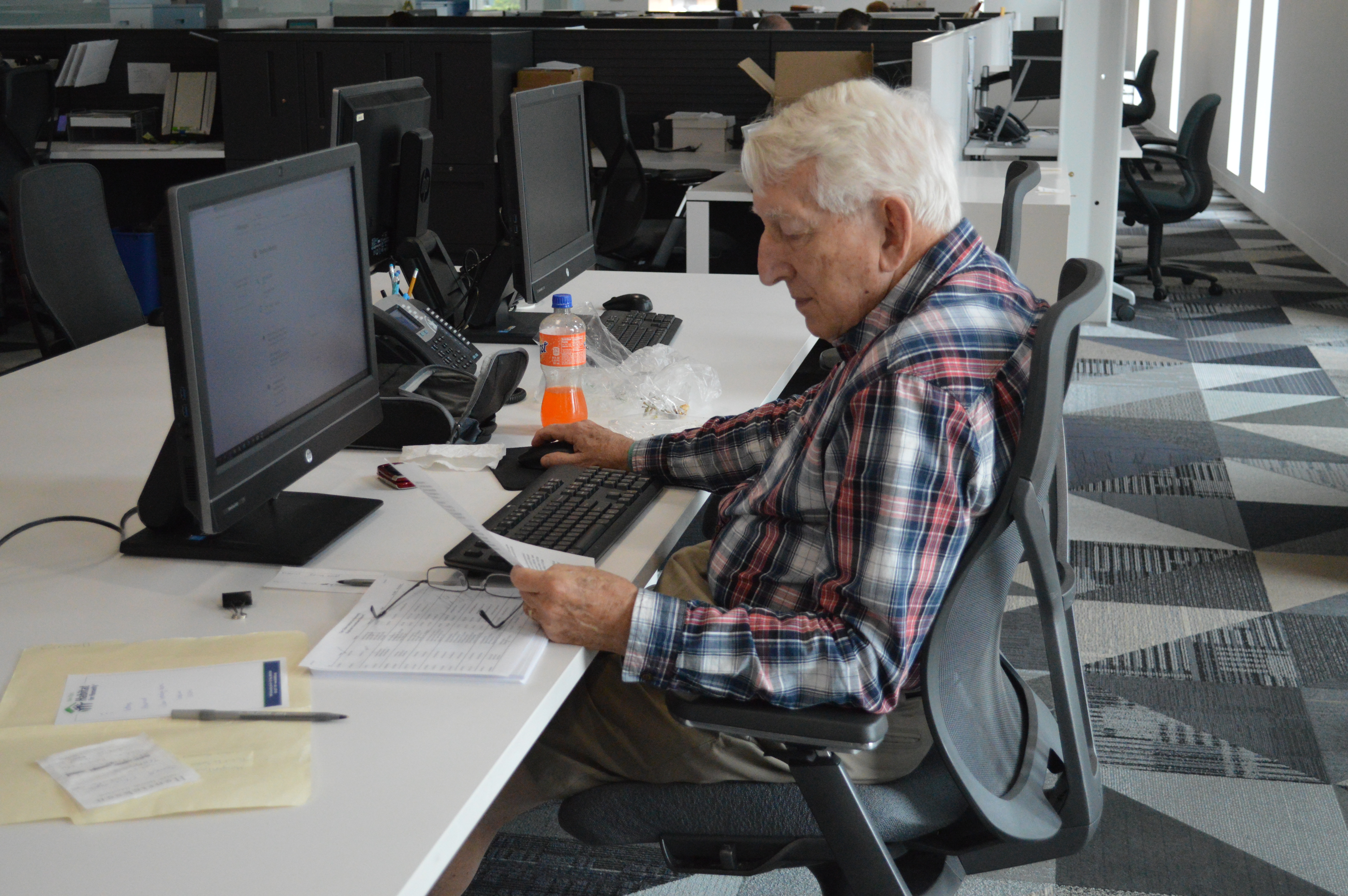 Carroll's favorite thing about getting out of the house to come and volunteer is meeting new people and having fun with them. He loves to give staff members a hard time, because then he can laugh with them.
He enjoys volunteering so much that he also spends some of his time Wednesday at Planned Parenthood working on inputting data and documentation. Carroll says that he enjoys the atmosphere and people both at Twin Cities Habitat and Planned Parenthood, because they are diverse and interesting to talk to.
One of his favorite memories during his time here as a volunteer with Habitat was when there was a surprise celebration for his birthday and a staff member hired someone to sing for him.
It's easy to see if you ask anyone at the office that Carroll is loved, and his fun personality is great to have around on any given day.
Carroll grew up on a dairy farm in eastern Wisconsin. Later, he went to the University of Wisconsin Madison and earned both a bachelor's and master's in geography. "Back then, that was the only university in Wisconsin," wow! He met his wife Ann in college and they went on to have three children. In his free time, Carroll enjoys reading non-fiction books and biking 5-10 miles every day.
Carroll worked for the US Department of Agriculture as an Agricultural Statistician for many years and had the opportunity to move all around the country - including places such as Denver, Chicago, Washington D.C., and Massachusetts. When the time came to retire, however; Ann had a different idea for how to use their time.
Coming back to 1994, Ann was interested in Habitat's values and mission and went to see the previous CEO of Habitat, Millard Fuller, when he came to town. Inspired, she convinced Carroll to come out and volunteer together- her on Women Build, and him in St Paul on various projects. They both had the chance to volunteer in Louisiana, and then continued to volunteer in the office as well.
Carroll and Ann did a lot of their volunteering through their church, First Presbyterian in Stillwater. For years Ann continued to work with Women Build, and Carroll worked in the office. Then, one day about seven years ago, Ann was diagnosed with ovarian cancer. She sadly passed away two years ago.
Now, Carroll continues to come in and bring light to even the cloudiest days here at the office as a volunteer, and we appreciate every minute he does.
Sara Kettering, former Executive Associate and Board Liaison, used to sit close to where Carroll's volunteer spot. She still thinks of him often.
"I keep a post-it on my desk that Carroll wrote for me on my last day. Little did he know that I would look at that note every day, long past my time at Habitat. Carroll's unwavering dedication to helping others – through his work with Habitat and his regular volunteerism with Planned Parenthood – are a reminder that we all have something to give back, at any stage of life."