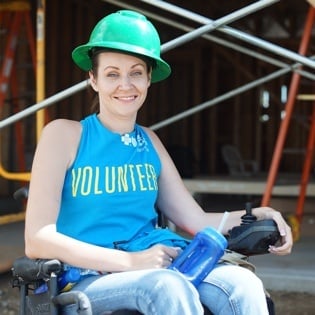 Habitat homebuilding sites are usually hives of activity. You'll see volunteers on ladders installing roofs, using power saws to cut lumber, hoisting windows into place, or brushing on a coat of paint. All volunteers have the opportunity to learn new skills, but no one is required to do anything beyond their skills or comfort. Some, like Christy Unterschuetz, just "do what they can do." In Christy's case, that's a lot.
I came across Christy on a recent visit to a Habitat build site in Cottage Grove. She was wearing the same hard hat and wearing the same brightly colored t-shirt as the other volunteers, but she wasn't swinging a hammer or climbing a ladder. Rather, she was directing her fellow volunteers from her wheelchair. "I'm sort of the hostess here on site," she said.
"About five years ago," Christy explained, "a co-worker tried to talk me into volunteering with Habitat, but I said 'What would I do there, I can't do any of the work?'" Fortunately for Christy, and for everyone who meets her, that co-worker finally convinced Christy to volunteer on a build with Blue Cross and Blue Shield of Minnesota.
Christy works with financial accounts at Blue Cross, spending most of her days on the phone or on the computer. Her days on the build site are very different.
"I do what I can do," said Christy, and she does a lot. Christy is on the steering committee that coordinates the build days for co-workers. On site, she makes sure everyone gets signed in and turns in their waivers, coordinates lunches, makes sure everyone is staying hydrated, gives directions to new arrivals, and generally adds a ray of sunshine even on cloudy days.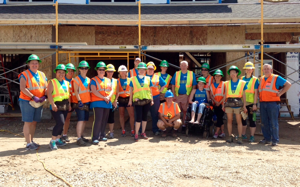 "I can't physically do most of the work on site," she said, "but I can direct people where to go, help them sign up, and think of ways to get more people involved. I want to do as much as I can." She laughs, "When I say 'If I can do it, you can do it,' and be in this 90 degree weather, everybody else can!" The day we met there were two new volunteers on site directly because of Christy.
Blue Cross Blue Shield allows employees to take paid time off to do volunteer work. "I usually do two days a year. I'm doing today and I'll be out again next week." In addition to the Cottage Grove site, Christy has worked on homes in Oakdale, a rehabbed home in Minneapolis, and one other project. "I really enjoy it," she said, "no matter how hot it gets outside!"
Volunteers of all skill levels and abilities are welcome on Habitat build sites. Not everyone is at home atop a tall ladder and not everyone can haul lumber around, but as Christy demonstrates, there is always something available for every volunteer to do. As Christy says, "I do what I can do."
When you meet Christy, you quickly see that what she "can do" is a lot. She's especially good at inspiring people, including me!