Amazon.com may be talking about using drones to deliver packages in the future, but Twin Cities Habitat for Humanity is already using a drone to deliver amazing aerial video of one of our build sites.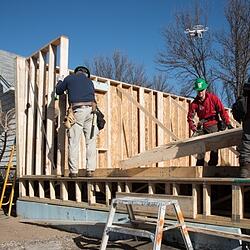 Tim Baer, a Twin Cities professional photographer and Habitat supporter, volunteered to use his talents as a photographer and drone pilot to do an aerial video shoot of a house build in St. Paul that's being sponsored by Thrivent Financial and the Holy Hammers coalition of churches. With the cheerful agreement of volunteers, Tim spent a couple days on site taking still photos on the ground, and aerial video with his drone. If you'll watch the short video below, you'll see some of what is possible when you connect advanced technology, and talented volunteers, to Habitat for Humanity.
We'd like to say we're going to have aerial footage from all our build sites, but that idea will have to wait, at least for a while. In the meantime, we're happy to have Tim and his magnificent little flying machine visit our sites whenever he can.
Enjoy the video, and keep an eye out for more to come!
Take 5 / Give 10 to take action to learn more about becoming a Habitat volunteer or donor. Change lives!