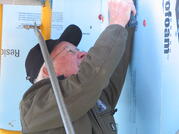 This year, Holy Hammers™ has reached the $1M mark for funds raised and given to sponsor Twin Cities Habitat homes. The Ecumenical coalition of local churches has partnered with Habitat for the past 16 years, providing funding and volunteers to help build homes for families.
Holy Hammers was formed in December of 1998, when nine area churches gathered as a coalition to partner with Twin Cities Habitat for Humanity. Today, Holy Hammers consists of a total of 14 Twin Cities' congregations, and is led by a Steering Committee consisting of 14 individuals - one representative from each church - that helps to coordinate schedules and pool resources to ensure a successful build season.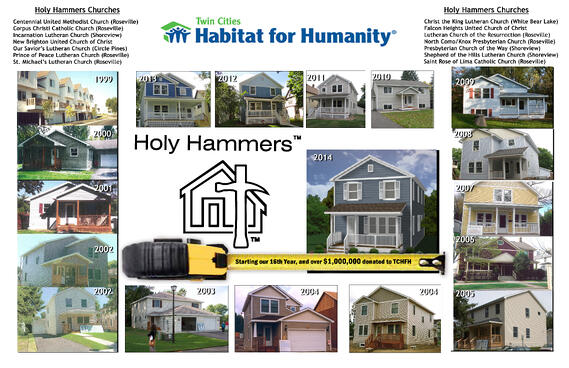 Each year, the coalition raises $65,000 - $75,000 to be a Cornerstone Habitat Sponsor, and provides roughly 800 construction volunteers in addition to the individuals that help to plan, schedule, promote, recruit and provide food for the volunteers. To date, Holy Hammers volunteers have fully built 19 homes and contributed to an additional eight in St. Paul, Shoreview, White Bear Lake, Roseville, Columbia Heights and Minneapolis. Through their efforts, they have been able to provide housing for 137 individuals, including parents, children and family members.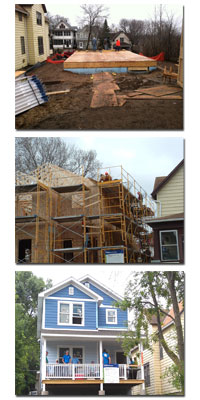 "Habitat not only helps build community through providing families with a permanent home and neighborhood, it also allows workers to connect with each other. Volunteers have a chance to get to know each other better working side by side and sharing time at breaks," said Jack Griffin, Holy Hammers Steering Committee Representative and member of Centennial Methodist Church.
The entire build process –from start to finish – is documented by Holy Hammers volunteers in a special photobook. The photobook is then presented as a gift to the Habitat family during the dedication ceremony, which celebrates the support of sponsors, the dedication of the volunteers, and a new beginning for the family.
"The dedication and accomplishments of Holy Hammers is such an inspiration to Habitat's work," said Stephanie Nelson, Faith Community Relations Senior Associate at Habitat. "Not only do they make a big impact each year by building a house for a family, but their efforts bring hope to the community and to its children. Their work will have an impact for generations. They are a shining example of one of Habitat's core values, Faith in Action: Called by our faith in God to serve families with generosity, humility and love."