There is a wealth of knowledge to learn when volunteering for Twin Cities Habitat for Humanity. From working the front desk, to teaching homeownership classes, to building Habitat homes—volunteers are a fundamental part of creating positive change in the community, and one of those caring, committed volunteers is Tim Blaisdell.
A Maryland native and North Carolina grad, Tim eventually found his way to Minnesota through Outward Bound, an educational outdoor experience. Tim was leading groups of students to the Minnesota Boundary Waters spending time kayaking, rock climbing, canoeing, and more.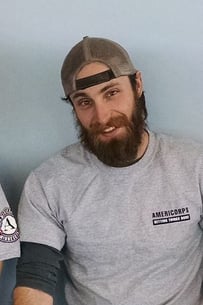 While driving past the Twin Cities Habitat office, Tim decided to stop and inquire about how to get involved. Volunteer coordinator and AmeriCorps member Zach Surber guided Tim through a volunteer orientation, preparing him for a House Month position.
A House Month volunteer commits to building and repairing a specific house and is a valuable assistant to the leadership on the build site. A House Month volunteer works three or more days per week for at least three weeks from 8:30am – 4:00pm. Tim believes being a House Month volunteer is similar to an AmeriCorps position: "Show up on time, follow directions, and learn about building while constructing a house for someone that really appreciates your help."
Tim wanted to build with Habitat without the expectation of turning this experience into a job. But it didn't take long for Site Supervisor Zack Zoul to approach Tim on the opportunities that can arise after House Month. "When he (Zack) explained that nearly all of the recently hired supervisors had started as AmeriCorps service members, it was clear that applying for an upcoming term was the right thing to do. . . I wanted to become part of Habitat."
Tim went through his House Month commitment of 3-5 days for 4 weeks learning many skills: "I had very limited experience doing most of the finish work stages that a house required. We hung drywall, set doors, cased windows, installed cabinets, painted. Doing construction tasks everyday will improve anyone's skills."
It is very clear to those who know Habitat for Humanity that volunteers are crucial to the mission "to make decent, affordable shelter for all those a matter of conscience." In Tim's experience, working with volunteers was a great joy and often left him impressed:
"They (volunteers) show up, sometime in the rain, sometimes in the snows, just to be part of an amazing process that no for-profit company could replicate. Volunteers are our great advocates. I've heard them explain Habitat to passing neighbors and tell stories of good and frustrating times on other homes. They're our friends, we tell jokes and help each other. . . Maybe you dig a trench with a volunteer on their first day and never see them again. Maybe you bandage their hammer-hit finger and they show up the next day at 7:15 am with a smile, ready to build a house. We're lucky to have them."
Tim's AmeriCorps experience is finishing in August, but he wishes to continue working with amazing volunteers and supportive Habitat staff. We are extremely grateful for Tim and his service to Habitat, as well as all the other House Month members, AmeriCorps, and volunteers that have been involved with the Habitat family.
If you are interested in becoming a House Month volunteer, please do not hesitate to reach out! No skills are required. For more information contact our Volunteer Coordinator at 612-305-7114 or email volunteer@tchabitat.org.