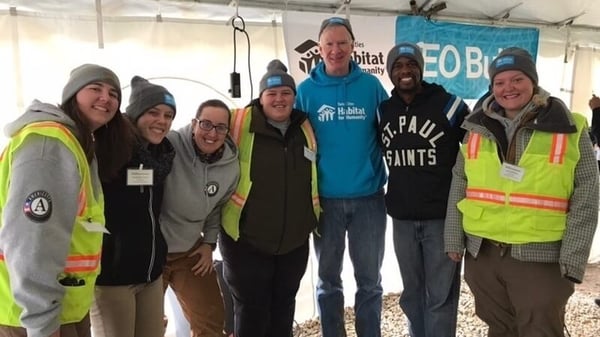 Twin Cities Habitat for Humanity is well known for our volunteer opportunities. From assisting on a construction site to lending a hand at one of our ReStore locations, we have plenty of options for volunteers of any skill level.
But did you know we need volunteers all year long? We're always looking for more volunteers during the winter months (December to February) to help out. While it may be cold outside, you might find that winter is one of the best times to volunteer with Habitat for Humanity. Here's why:
Benefits of Volunteering in the Winter
Time Off. Winter is one of the few times of the year where practically everyone has time off. Although it's a busy time of year with holidays, there are often a few free days in the mix, especially for students. What better way to spend your extra time during the holidays than giving back to your local community?
Time Spent with Family and Friends. When you volunteer with Twin Cities Habitat for Humanity, you can organize a group of 3-4 family members or friends at our ReStore Home Improvement Outlets or on homebuilding projects. If you have a bigger group you'd like to volunteer with, just email our Volunteer Coordinator at volunteer@tchabitat.org or browse through all our available opportunities. Whether you're coming with friends or you're volunteering alone, you'll find that Habitat for Humanity is a great place to meet new friends while learning some valuable skills. Take it from one of our regular volunteers: "Habitat is a great way to step outside my normal box. It has become a social life for me."
Projects for Everyone. Anyone can help out on our build sites, whether you're a seasoned carpenter or you've never lifted a hammer. And if build sites aren't your thing, we have many great non-construction opportunities available, including baking cookies, helping out at one of our ReStore locations, or supporting our Youth Programs.
Staying Active (Without Getting Cold). When it's really cold outside, it can be difficult to motivate yourself to get active. Volunteering at Habitat for Humanity offers a great opportunity to stay busy while avoiding freezing temperatures. During the winter months, our volunteers typically help with indoor construction, like drywall installation, painting, trim, accessory installation (blinds, towel bars, etc.), and cleaning. And don't worry – all of our sites are heated with a permanent furnace or temporary heaters.
Although a majority of the work will be indoors, you may be asked to help receive deliveries or organize materials, so be sure to bring warm gloves, hat, coat, and warm shoes/boots with you on site. We also encourage you to pack a water bottle so you can stay hydrated.
Become a Winter Warrior
A Winter Warrior is anyone who volunteers with Twin Cities Habitat at least three times from December 1 to February 29. You can also easily become a Winter Warrior by leading a team of five friends or family members for a single volunteer day.
Winter Warrior volunteers receive limited-edition mittens for their efforts. "It's become a badge of honor," says Anne Elliott-Thul, Manager of Volunteer and Constituent Programs. "We don't give away these mittens to anyone. They are earned and worn with pride!"
Interested in volunteering this winter? We have construction sites located across the seven-county metro area, and plenty of opportunities at our office, ReStore locations, and more! Check out upcoming Winter Warriors volunteer opportunities.