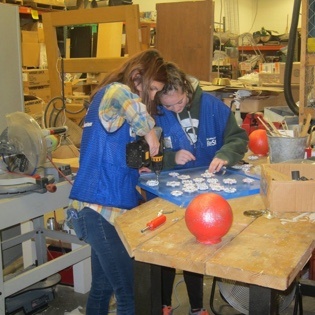 Are you a student wondering what to do over winter break? Do you have students you're trying to keep busy or entertained over break? Have they/you considered volunteering?
My wife and I have an unusual 15-year-old at home - our daughter Priscilla. She actually enjoys doing volunteer work, especially when she can see tangible results from her efforts. She first volunteered at the Twin Cities Habitat ReStore last summer. She thoroughly enjoyed pricing merchandise to put on the floor, rearranging product, and helping customers find what they were looking for.
The ReStore is Habitat's discount home improvement outlet. Individuals, businesses, builders and remodelers, etc., donate unneeded building materials, cabinets, appliances, hardware, flooring, lighting, and other supplies, to the store. Those donated items are then sold at the ReStore with every penny in earnings going to Twin Cities Habitat for Humanity to help build more homes. Last year the store was responsible for being the primary funding on six homes. You can find out more on our website at Youth and Families under the Get Involved tab.
To Priscilla, the ReStore is a treasure hunter's dream. On her first day volunteering she found a lamp she just had to have for her room; worked with a mother putting in her sweat equity hours to buy a home; and she met another 15-year-old volunteer, Davina, with a similar hard-working, fun-loving, wise-cracking attitude. Priscilla and Davina became fast friends. By the end of the first day Priscilla said she wanted to get her other friends to volunteer with her. Success, right? Not quite.
Teens tend to have very full calendars these days, so they need to be really motivated to schedule something they're not sure will be fun, profitable, or both. My daughter's friends are no different, and she was challenged to find friends willing to volunteer with her. That changed when my wife reminded her to tell her friends about the Presidential Volunteer Service Award (PVSA) and how good it looks on college applications.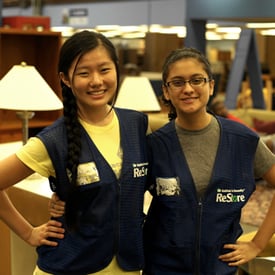 My wife was amazed at how few people know about the Presidential Service Awards, but they listened carefully when they discover a PVSA gets a lot of attention with admissions officers. Most parents want to inspire their teens to do volunteer work, and the teens I know really want to do it, but busy lives frequently means volunteering gets put on the back burner. Telling them about the PVSAs can be the nudge they need to put volunteering on the calendar.
Predecessors to Presidential Service Awards were launched in the 1980s, and the current award was launched in 2002. It was established after 9/11 as a way to renew interest in helping our neighbors. Volunteers work at certified organizations, like Habitat for Humanity and the ReStore. Students from elementary school through high school, and even adults, can earn the awards by fulfilling a required number of service hours for a year. (The number of hours depends on the volunteers age). Colleges love to see community service on applications and the PVSAs give students and easy way of creating trackable service time.
Once word spread among the students at my daughter's high school, it became easier to get others to volunteer, and not just at the ReStore. Students who volunteer at the ReStore are quick to return, and bring friends with them. The PVSAs helped get the students there, but having a lot of fun, doing work that was enjoyable, hanging out with friends, and learning first hand from Habitat homebuyers just how much the students' volunteering was appreciated, brings them back.
In addition to volunteering at the ReStore, Twin Cities Habitat has other volunteer opportunities for youth and families. Fundraising, landscaping, office services, and building chairs and toy boxes to sell at the ReStore, are just a few of the ways Habitat offers youth to get involved. You can find our more on our website at Youth and Families under the Get Involved tab.
Wondering what to do over winter break? Check out volunteering at the ReStore. You'll have fun, do something useful and appreciated, make new friends, and maybe find some great stuff you just gotta have. Of course, if you want to keep volunteering after your break is over, Habitat and the ReStore would love to have you, and you'll be making a positive impact on the lives of children and families. Oh, and you'll earn hours for your Presidential Volunteer Service Award, too.
Break winter break boredom and give the gift of your time. For that matter, start volunteering over break and keep it up throughout the coming new year. You will be making a real difference in the lives of a lot of people, you included.