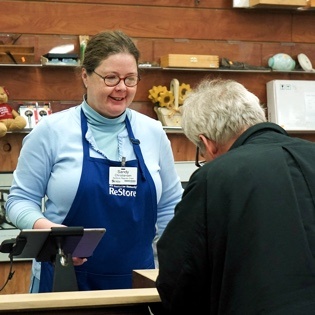 "At one point in my life, I lost my home," Sandy said. Sandy volunteers at the Twin Cities Habitat for Humanity ReStore in New Brighton. "I've recovered from losing my home, but I feel a particular empathy for those trying to build their lives and families and preserve their traditions by buying a home of their own."
Sandy retired from her career as a Registered Nurse a couple of years ago. It didn't take long before she realized she wanted to fill her time with constructive things. One Sunday, she saw a blurb in her church bulletin about volunteering to work on a home build with Habitat. She wasn't able to work on the build, but the blurb directed her to the Habitat website.
While visiting tchabitat.org, Sandy saw the link to ReStore. She explored ReStore's site and knew she'd found where she wanted to volunteer. "I love working with people and I saw right away that I could work with a lot of different people at ReStore."
Anyone watching her interactions with customers can see how much she enjoys the people. She has a ready smile and a friendly word for everyone she rings up as a cashier. Sandy volunteers two, four-hour shifts each week.
"Tuesday's are one of our busiest days," she notes. "Our regular shoppers know there are sure to be a lot of new items on the shelves on Tuesdays. They come in and check them out. I don't usually have much time to do anything other than work the cash register on Tuesdays. Other days, when it's not so busy, I like to help process donations by pricing them or putting them together.
Sandy takes a moment from the interview to ring a customer up. "I particularly like working with Habitat homebuyers. They are so proud of buying a home and it feels good to help them figure out the things they'll need in their new homes."
One of the store staff interrupts by trying to photobomb a picture for this story. The pair laugh at the antics. They obviously enjoy each others company. "I know that I can come here and know that I will have a wonderful day!" she said. "The full time staff, regular volunteers, and even our regular customers, are like friends. We've built relationships that make working here much more fulfilling than just putting in volunteer hours."
When asked what she would tell others who were thinking about volunteering, she said, "Just sign up! They make it easy to do, and it's a lot of fun." She adds, "With the busy season just starting, and a second ReStore opening up this fall, we can use all the volunteers we can get."
To learn more about ReStore and the volunteer opportunities available there, visit restore.tchabitat.org.