"I was born in St. Louis, Missouri. I moved here in 1995. At that point, I found myself – for lack of a better word – homeless."
Buffy was in a tough spot. Facing homelessness with several young children was daunting, to say the least. There was constant anxiety about where her babies would lay their heads that night, or the next.
But Buffy is strong.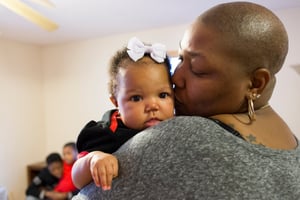 She sought out emergency shelters. From there, she connected with a transitional housing program, and was able to live in transitional housing for a few years. But she longed for a stable place to live. And with her five rambunctious kids, she longed for a home.
"I think I actually googled low cost homebuying programs, and Habitat was one of the ones that came up," Buffy says. She applied—and couldn't qualify because her income wasn't high enough.
But Buffy is resilient.
She went back to school, earned her associates degree, found a better job, and re-applied to Habitat. This time, she was accepted.
She began preparing for homeownership with Habitat while she was still in transitional housing. She worked on getting her finances in order. She took homeownership classes on topics like "home maintenance and repair." And she started doing her sweat equity volunteer hours on her home.
She liked meeting volunteers like you and learning new construction skills, especially when she got to work on what would be her own home. Her kids even helped by shoveling driveways of Habitat homes under construction when it snowed, earning more hours for mom.
"To see all the groups that volunteered…to see all these people who I had no connection to whatsoever that just wanted to do something good, that just wanted to help—that was just awesome to me."
When she had the opportunity to volunteer on her own home, it was extra special. Every time she'd come down the street, she could see more of her house coming together. Buffy says that to see her walls go up, her roof installed, was simply mind blowing. And when she was working on site, she could feel the love going into her home from all the volunteers around her.
After working hard alongside supporters like you, Buffy was opening the door on her Habitat home. They didn't have beds those first few days, so they slept on the floor like a slumber party. But even without furniture at first, they couldn't be happier. No more shelters, no more uncertainty.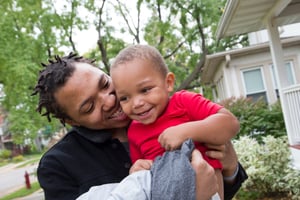 Her son Daniel remembers running around the home, gasping, touching everything—turning the kitchen sink on and off, flushing the toilet, clamoring into his new room.
"Having that type of stability just radiates into other areas of your life," Buffy says. Her home has been a stable home base for her kids, and for anyone else who needed it. That stability has given her the freedom to focus further into other areas of her life. She was able to take on more responsibility at work, go back to school to earn her bachelor's degree, and put more energy and love into hosting holidays at their home.
Now, Buffy is giving back. She helps people with disabilities pay for housing through her career at Hennepin County. She joined the board of the transitional housing program where she once lived. And she shares her story with anyone who will listen—whether that's at a special event like the Hard Hat & Black Tie Gala, or with someone she met who might be ready to buy a home with Habitat.
"I want people to know that when they write a check or make a donation to Habitat, it doesn't just go into some random air space—it actually goes to help real people accomplish real things and meet real goals."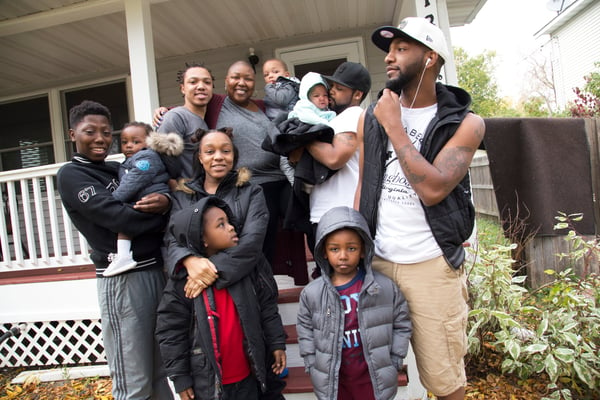 In the eyes of her family, Buffy is even more than someone who sets and achieves their goals: "Looking up to my mom—she was a big superhero," says her son Daniel. "I thank her for putting us in this house, because it's our home! Even if I were to call something else home, I feel like this will always be my home."